FIFA 23 Ultimate Team Pack Animation Revealed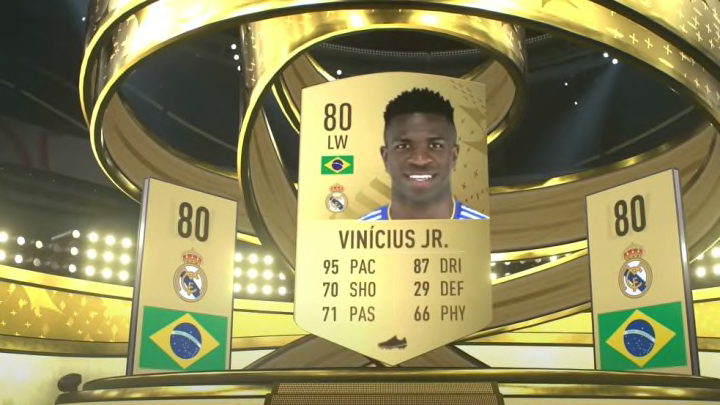 Photo by EA Sports
The FIFA 23 Ultimate Team pack animation was revealed in the Ultimate Team Deep Dive released Aug. 11.
One of the most exciting parts of each FIFA Ultimate Team reveal year in and year out is the pack animation. Fans want to know how to know when a player is a walkout and more. The animation was stashed as a quick clip during the FUT Moments portion of the trailer, so we have some information to go off of. But, perhaps we're missing some minor details here and there which we won't have until Early Access and the EA Play trial.
FIFA 23 Ultimate Team Pack Animation Revealed
Starting at 0:27 in the video above, there's a pack animation clip shown for Real Madrid star Vinicius Jr. with his old FIFA 22 rating.
First takeaway is that it appears similar to the FIFA 22 animation with a player card highlighted right away. The previous pitch background has been swapped out for a more spectacular feeling when opening up packs. A common complaint with last year's animation was that it was too quick and took away from the excitement in titles like FIFA 18, 19 and 20.
It's unknown if the overall rating accumulating at the top of Vinicius Jr.'s card is a new feature, or just a special effect tacked on to the trailer. If it is a new feature, it's an improvement on last year's animation where players just sat there waiting for the number to be revealed.
The animation feels like it has more flair than before, but fans still hope there's a bit more to be revealed ahead of the Sept. 30 release.
Read more on the FIFA 23 Ultimate Team Deep Dive including the new FUT Moments mode, the changes to chemistry and implementation of cross-play.