Apex Legends
Former Apex Legends Dev Says Lack of In-Game Quests is Due to Logistical Constraints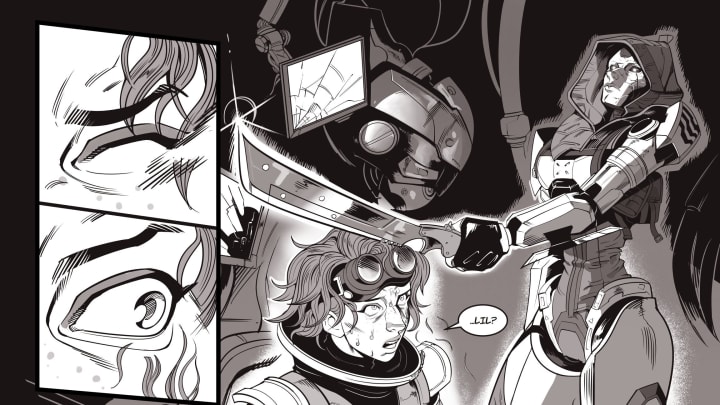 With Ash's backstory being told through books, videos and comics, some Apex Legends fans are wishing they also had a new in-game quest to experience. / Photo courtesy of Respawn Entertainment
The build up to the reveal of Ash not only being the next playable character for Apex Legends Season 11, but also having the human identity of Ashleigh Reid, is one that should be applauded.
Through a 208-page art and lore book, several comics posted on Twitter, another hit episode of Respawn's "Stories from the Outlands" series, and more, those in the community interested and invested in the battle royale's lore were able to put together the pieces and figure out just what makes Ash tick — and the results are pretty unsettling.
However, now that the hunt to unravel just who the simulacrum really is seems to have wrapped up, some players in the community are wishing they would've had an in-game quest to experience as well.
Being that Ash's first crossover appearance in Apex Legends from Respawn Entertainment's Titanfall series took place at the end of "The Broken Ghost" in-game quest in Season 5, it certainly makes sense that some fans are feeling like an opportunity was missed here by Respawn Entertainment to some extent.
On Oct. 15, former Apex Legends senior writer Tom Casiello replied to a Tweet sharing this sentiment, explaining that the Respawn team did indeed try to do more in-game reveals for major lore events such as Ash's awakening, but simply couldn't due to issues regarding "manpower," "memory" and "time."
Back in October 2020, Casiello also revealed on Twitter that a Broken Ghost quest sequel was planned for Season 6 but soon scrapped, mentioning that "at any given moment in gaming, everything can change and that thing you were working on doesn't actually exist anymore."
While missing out on in-game quests for major lore events is a bit of a bummer, Apex Legends players can be rest assured knowing that the Respawn team did indeed try to get some more of them done.
For more on Apex Legends, feel free to check out our coverage of everything we know about Ash's abilities ahead of the launch of Season 11: Escape.