Call of Duty
How to Get Spectrum Camo in Modern Warfare 2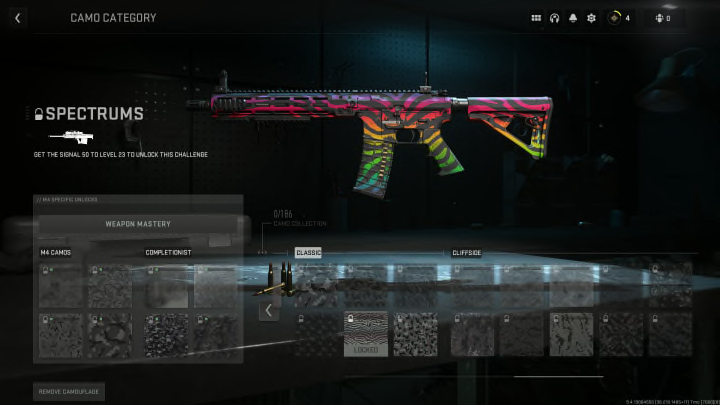 Here's a breakdown of how to get the Spectrum Camo in Call of Duty: Modern Warfare II. / Activision, screenshot by DBLTAP
Wondering how to get the Spectrum Camo in Call of Duty: Modern Warfare II? We've got you covered.
The fan-favorite Spectrum Camo from COD: Ghosts and Black Ops 4 is indeed back in Modern Warfare 2. By virtue of Infinity Ward streamlining the series' staple Camo Challenge System for MW2, a vast amount of Camos can be unlocked in the new game — including Spectrum.
Here's a breakdown of how to get the Spectrum Camo in Call of Duty: Modern Warfare 2.
How to Get Spectrum Camo in Modern Warfare 2
To unlock the Spectrum Camo in Modern Warfare 2, players must get the Signal 50 sniper rifle to Level 23. From there, a challenge will unlock. Challenges vary depending on the weapon. For example, an M4 camo challenge might require 15 kills from behind. The Signal 50 challenge for Spectrum will be dependent on the weapon itself.
As touched on earlier, this is because Base Camos in MW2 are universally unlocked across all weapons by completing a challenge on the road to a weapon's first Mastery Camo.
In Modern Warfare (2019), each weapon had up to 10 Base Camo set challenges. Completing these unlocked all 100 Base Camos, but only for that weapon, and every Base Camo across all weapons was the same.
In Modern Warfare 2, the Base Camo Challenge system offers between one and four challenges per weapon, and each challenge unlocks a new Camo to use across all weapons.
There are 180+ unique Base Camos available at launch, with more to be added with each new weapon that comes in post-launch Seasons.
It is worth mentioning that the Spectrum Camo is known as "Spectrums" in MW2, but its classic bright spectrum of neon colors in a zebra stripe pattern is back in full force nonetheless.
---
For more on Call of Duty, be sure to check out our top five lists:
Additionally, feel free to check out our timeline on the history of the Call of Duty franchise!