Call of Duty
Modern Warfare 2 Weapon Mastery Challenges Explained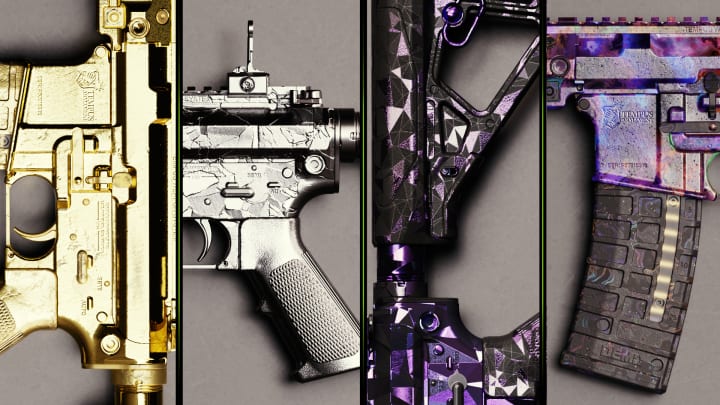 "You may recall something known as Weapon Mastery." / Activision
Wondering what Weapon Mastery Challenges are in Call of Duty: Modern Warfare II? We've got you covered.
For those who've played Modern Warfare (2019) or the original Modern Warfare 2 (2009), this year's MW2 is set to bring back one of the series' OG series of weapon challenges. Here's a breakdown of everything you need to know about Weapons Mastery Challenges in Modern Warfare 2.
Modern Warfare 2 Weapon Mastery Challenges Explained
After unlocking any of MW2's four new Mastery Camos — Gold, Platinum, Polyatomic and Orion — players will gain access to that weapon's Mastery Challenge.
FTAC Recon Weapon Mastery / Activision
Each Weapon Mastery Challenge involves earning a set number of kills with a weapon while a specific Mastery Weapon Camo is equipped.
For example, for the M4:
Gold Mastery Challenge: Get 100 Kills with Gold Camo equipped to the weapon.
Platinum Mastery Challenge: Get 200 Kills with Platinum Camo equipped to the weapon.
Polyatomic Mastery Challenge: Get 300 Kills with Polyatomic Camo equipped to the weapon.
Orion Mastery Challenge: Get 400 Kills with Orion Camo equipped to the weapon.
In exchange for completing a Mastery Challenge on a weapon, players will get a new Calling Card and Emblem based on that weapon (e.g. Gold M4 Emblem and Gold M4 Calling Card).
Completing all four of the Mastery Challenges on a weapon unlocks a Weapon Charm based on that weapon (e.g. M4 Weapon Charm).
Ultimately, completing every Weapon Mastery Challenge in the game for all of the weapons at launch, as well as unlocking Orion on every weapon, is said to have a special completion reward for doing this. Of course, this would take quite a bit of time to say the least.
---
Call of Duty: Modern Warfare II is set to release worldwide on Oct. 28.
For more on Call of Duty, be sure to check out our other top five lists:
Additionally, feel free to check out our timeline on the history of the Call of Duty franchise!