How to Ignite Structures for Herald Quest in Fortnite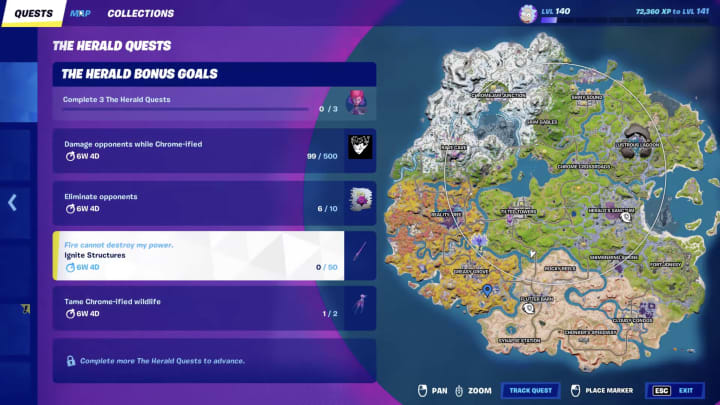 Epic Games, Image by Fortnite Events
The Herald has made her way onto the island and we have the tips you need to complete one of the various quests required to unlock her outfit.
The Herald Quests in Fortnite presents nine unique challenges for players to complete in order to unlock the Herald skin. These challenges can range from eliminating a certain amount of opponents to destroying various objects with the Explosive Goo Gun. Each of these challenges unlocks in-game items centered around the Herald character.
The list below shows the items that are unlockable.
Epitaph Edge Pickaxe
The Herald's Leer Spray
Herald Banner Icon
Fading Ember Clock Back Bling
Reality's Master Emote
Chrome-gratulations Emoticon
Nothing is Happening Loading Screen
Heraldic Wrap
Burning Ember Style
The Herald Outfit
How to Ignite Structures for Herald Quest in Fortnite
One of the challenges to found amongst the Herald Quests is to ignite 50 structures on the island. This challenge is on the first page of the Herald Quests and unlocks the Epitaph Edge Pickaxe when completed. Accomplishing this feat will also work toward unlocking the Herald outfit as completing three challenges are required to do so.
This quest can be accomplished by obtaining Firefly Jars and throwing them at wooden structures. This method is pretty straightforward and should make this challenge a breeze. That being said, if finding Firefly Jars is proving difficult we suggest blowing up gas stations on the island. That or shooting gasoline canisters around the island are viable methods for completing this quest.