How to Unlock Gym Rat in NBA 2K23: Current and Next Gen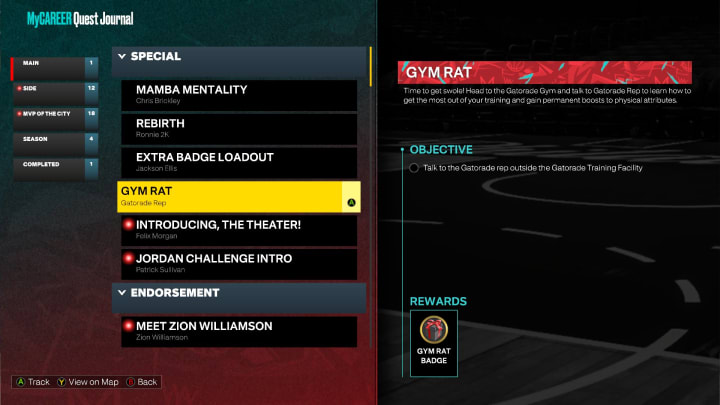 Here's a breakdown of how to get the Gym Rat Badge in NBA 2K23 MyCAREER on Current Gen and Next Gen. / Image courtesy of 2K/Screenshot: Ralston Dacanay
In NBA 2K23, the Gym Rat Badge returns as one of the most significant ways players can separate their games from the rest of the pack online in MyCAREER.
As seen in previous years, the Gym Rat Badge is a highly coveted boon to collect in NBA 2K23 MyCAREER as it serves as adds four Attribute points to your build's Speed, Acceleration, Strength, Vertical and Stamina, as well as permanently adds an extra portion to your Stamina Meter. Here's a breakdown of how to get the Gym Rat Badge in NBA 2K23 MyCAREER on Current Gen and Next Gen.
How to Unlock Gym Rat in NBA 2K23: Current Gen
On Current Gen, players will need to complete the "Addicted to Sweat" quest, which is given by the Timmy NPC located in the Gatorade Facility. Unfortunately, it does appear that in order to get the ability to talk to Timmy, players will first have to complete the series of quests needed to earn the Mamba Mentality Badge.
After completing 50 Gatorade Workouts with the quest accepted, players will receive the Gym Rat Badge, as well as 1,500 VC and a Small XP Reward.
As pointed out by MirHavinYT, it also seems players on Current Gen can use the exploit seen at the beginning of last year in 2K22 Next Gen, where players could spam the Gatorade reaction drill at the back of the facility to complete the challenge as fast as two hours since it doesn't have a cooldown.
Additionally, it seems an alternative way to get the Gym Rat Badge is the same as its been in previous titles — win an NBA Championship.
How to Unlock Gym Rat in NBA 2K23: Next Gen
For those on Next Gen, the Gym Rat quest is pretty much available right off the bat once again.
After completing the NBA Summer League game, players will receive a bunch of intro quests, including the Gym Rat one.
To get the quest started, simply talk to the gym rep NPC standing outside of the Gatorade Facility. Once that's done, players will see that the Gym Rat quest requires them to hit 25 3-Star or higher quality workouts in order to complete it.
In theory, this means that it would take at least five weeks to unlock the badge, as each of the gym workouts can only be done once per week.
---
For more on NBA 2K23, feel free to check out: