IceManIsaac Reveals His 'Perfect' Warzone AR Build in Season 4 Reloaded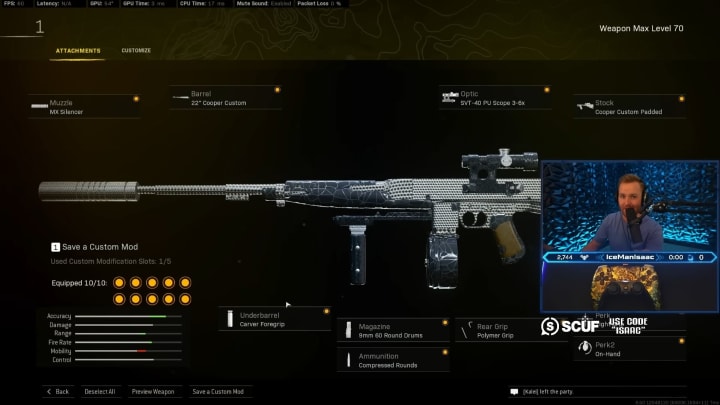 "It kills faster than all of the meta ARs." / Image courtesy of IceManIsaac, Activision
Content creator IceManIsaac recently posted a video on his YouTube channel revealing what his personal favorite assault rifle is at the moment in Call of Duty: Warzone Season 4 Reloaded.
As longtime players are well aware, the Cooper Carbine has been one of the most viable options for quite some time in the Warzone Pacific era. In our latest Season 4 Reloaded Assault Rifle Tier List, we even mentioned how the Cooper Carbine is still S Tier despite its recoil pattern being made a bit harder to control. Now, after the Aug. 3 patch, the Cooper Carbine appears primed to shine in what appears to be one of the most balanced metas in some time.
Breaking it all down in a recent YouTube video eloquently titled, "THIS META AR KILLS EVEN FASTER?! You Need to be Using This Attachment!," loadout mastermind IceManIsaac showcased how the Cooper Carbine is perhaps the weapon that all players should be giving a try in Call of Duty: Warzone Season 4 Reloaded.
"It kills faster than all of the meta ARs, including the Kilo, including the AMAX, including the NZ, the KG," IceManIsaac said in the video. "This is the weapon to use."
Ultimately, as IceManIsaac explained, the Cooper Carbine sits in a really good spot at the moment in the Warzone meta especially since now community has found three attachments in particular that have increased its time-to-kill (TTK) way ahead of the pack — the Carver Foregrip, Polymer Grip and Compressed Rounds.
In solos and duos, as well as in trios and quads if you stick with your teammates, this could be the go-to AR.
For those looking to use IceManIsaac's Cooper Carbine build, here is his class setup:
Muzzle: MX Silencer
Barrel: 22" Cooper Custom
Underbarrel: Carver Foregrip
Magazine: 9mm 60 Round Drums
Ammunition: Compressed Rounds
Optic: SVT-40 PU Scope 3-6x
Rear Grip: Polymer Grip
Stock: Cooper Custom Padded
Perk 1: Tight Grip
Perk 2: On-Hand
---
For more on Call of Duty, be sure to check out our top five lists:
Additionally, feel free to check out our timeline on the history of the Call of Duty franchise!