Madden NFL 22 Superstar KO: Game Mode Details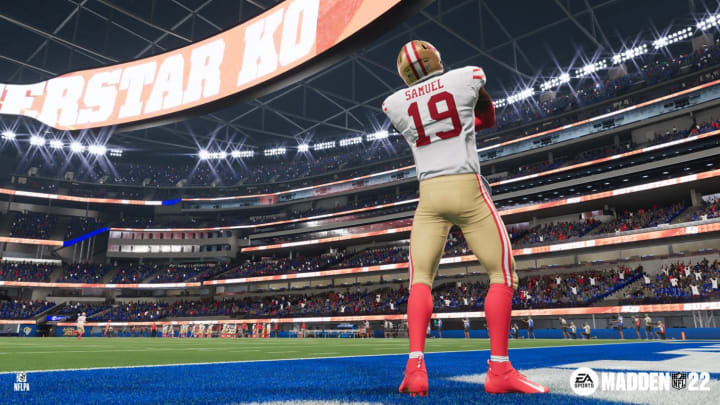 Superstar KO is back again in Madden NFL 22. / Photo courtesy of EA Sports
Madden NFL 22 has brought back Superstar KO, a relaxed, arcade-style game mode first introduced to the series in Madden 20.
For those looking to take a break from grinding hours in MUT or Franchise Mode, here's a breakdown of Superstar KO in Madden NFL 22.
Madden NFL 22 Superstar KO: Game Mode Details
Superstar KO is co-op eliminator mode where players draft a team of Superstar X-factors to play short games that feature dynamic special house rules, unique stadiums, and icons of football culture.
From DJ Khaled and Lil Yachty, to Migos and Snoop Dogg, as the game mode's name suggested, players were able to use these celebrities alongside current stars and NFL legends on their rosters.
This year, Superstar KO game mode returns with its signature set of rules:
Pick a team and Superstars
Score a TD from your own 25
No kicking
Tug of War breaks ties
Win to earn another Superstar
Win four and become Undefeated Champs
Additionally, there are now two other rule sets for players to try out in Superstar KO:
Exhibition: Classic NFL rules, exhibition style. Pick a team and playbooks for a one-and-done, three-minute quarters game.
Infinite: A never-ending way to play with your favorite stars. Same rules as the Superstar KO set. Play for your longest win streak and compare on the global leaderboard.
For the first time in the series, however, Madden 22 is adding authentic NFL teams, various stadiums and rosters to Superstar KO.
Players can now choose from all 32 regularly updated NFL teams in Superstar KO, including which offensive and defensive playbooks they want to use. Games can be 1v1, 2v2, and 3v3, and there's also a new "play a friend" feature.
For more on Madden NFL 22, feel free to check out our coverage of the Face of the Franchise glitches.