Magic: The Gathering Set Release Calendar 2023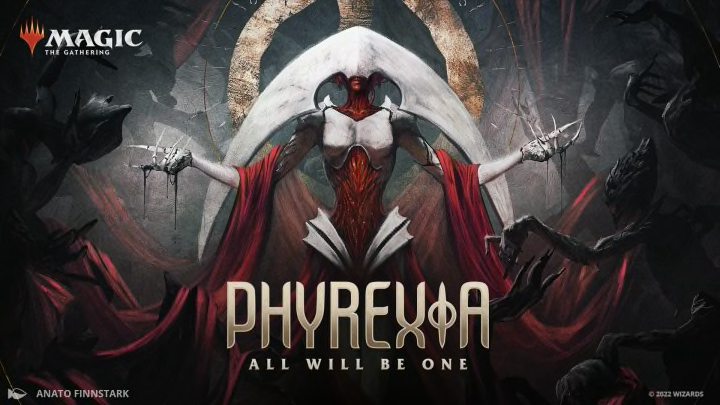 Phyrexia, All Will be One is the next Magic: The Gathering set to be released in 2023. / WOTC / Anato Finnstark
Magic: The Gathering is a game that's constantly evolving, adding new cards, characters and worlds for players to explore. If you're a Magic player looking ahead and want to see what's coming next for the game, we have the schedule here for you.
New sets mean new cards, and new cards mean new decks. While it's impossible to predict what strategies will become dominant in the Standard, Explorer and Alchemy formats on MTG Arena, the new sets will almost surely shake up the meta.
Magic: The Gathering Main Sets Coming in 2023
Dominaria United and The Brother's War released at the end of 2022, leaving five sets to be released in 2023: Phyrexia: All Will Be One, March of the Machine, March of the Machine: Aftermath, Wilds of Eldraine and lastly The Lost Caverns of Ixalan.
Magic publishers Wizards of the Coast have provided a release roadmap for the year.
Magic's release timeline for 2023 / WOTC
1.

Phyrexia: All Will Be One
Elesh Norn is a Phyrexian praetor and a villainous mastermind / WOTC / Magali Villeneuve
Magic's next set, codenamed ONE, continues the Phyrexian storyline. In it, a group of planeswalkers are pitted against the horrific cyborg race of Phyrexians and are forced to delve into their nightmarish homeworld in order to stop their nefarious, multiverse-conquering agenda. A massive leak earlier this month revealed many cards from the set, which releases on MTG Arena on Feb. 7 and on tabletops Feb. 10.
2.

March of the Machine
Time wizard Teferi and his planeswalker allies will have to face off against Elesh Norn in the epic conclusion to the Phyrexian storyline. / WOTC / Billy Christian
WOTC has this to say about March of the Machine: "The Multiverse—and Magic—will be changed forever." Expect March of the Machine (MOM) to provide an epic climax to the Phyrexian storyline when it releases in April.
3.

March of the Machine: Aftermath
Aftermath's set symbol. / WOTC
In a new move for WOTC, Aftermath (MAT) will be a "micro-set" that ties up the Phyrexian storyline with a limited selection of new cards. It will be standard legal and releases in May.
4.

Wilds of Eldraine
Eldraine brings fairytale whimsy and dark sorcery to Magic. / WOTC / Magali Villeneuve
Magic returns to the fairytale-inspired plane of Eldraine, inhabited by knights, faeries, witches and knights. It releases "midyear" 2023. The first Eldraine set was well-received by players thanks to its whimsical setting and powerful cards.
5.

Lost Caverns of Ixalan
Merfolk rule the waters of Ixalan. / WOTC / Alix Branwyn
Another returning plane, Ixalan is a plane inhabited by dinosaurs, vampires, pirates and merfolk. Its unique aesthetic evokes the pre-colonial Americas and was a fan-favorite. The new set releases in Q4 2023.
Magic: The Gathering Supplemental Sets Coming in 2023
In addition to the main sets, WOTC is also releasing a selection of supplemental sets as part of its ongoing program of experimentation with brands outside the Magic universe. These include collaborations with Lord of the Rings and Doctor Who, which are also coming in 2023.
Now you have the 2023 release schedule for Magic: The Gathering. Tons of content for MTG comes out very year, and 2023 seems no different. If anything, expect 2023 to be one of the biggest years ever of Magic, as it presents the climax to the Phyrexia storyline and expands on fan-favorite planes.