Minecraft Dungeons Soggy Cave Puzzle Solution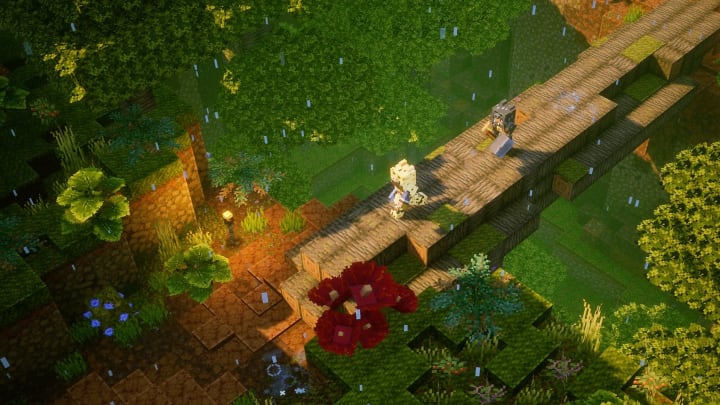 Minecraft Dungeons players are wondering how to complete the Soggy Cave Puzzle and are seeking solutions to this challenging adventure. / Photo courtesy of Minecraft
Minecraft Dungeons players are wondering how to complete the Soggy Cave Puzzle and are seeking solutions to this challenging adventure.
Minecraft Dungeons was released on May 26 and players have been hard at work. Post-game events such unlocking the secret "???" Moo mission have been entertaining players.
YouTuber TheDeadSedd put together an easy way to solve the puzzle, which you can see below:
Minecraft Dungeons Soggy Cave Puzzle Solution
Soggy Cave is a secret misssion that can be unlocked in Minecraft Dungeons by competing the normal game mission, Soggy Swamp.
After finding and exploring the lost ruin, players will run into two puzzles.
Puzzzle #1
Starting from the left, players will need to alternate pressing between the left and right button.
Left - Right - Left - Right - Left
This should activate and complete the puzzle and drop the wall that is blocking the pathway.
Puzzle #2
Players could randomly press this harder puzzle this success or follow this guide. This is because the puzzle will come in many different variations and unlike puzzle #1.
From left to right, the buttons can be number one to four.
1. Keep pressing button one till block is on far left.
2. Press button three.
3. Press button one twice.
4. Press button two.
5. Press button three.
This should complete the puzzle and lower the wall that blocks the pathway.
Puzzles can be challenging and confusing but trying out multiple combinations help eliminate possibilities. The Soggy Cave Puzzle can also be completed by pure luck by mashing buttons. A preferred method by some.
Minecraft Dungeons can be played on Playstation 4, Xbox One and PC.