Top Games
NBA 2K22 2KTV Episode 3 Answers: 3,400 VC Available for Free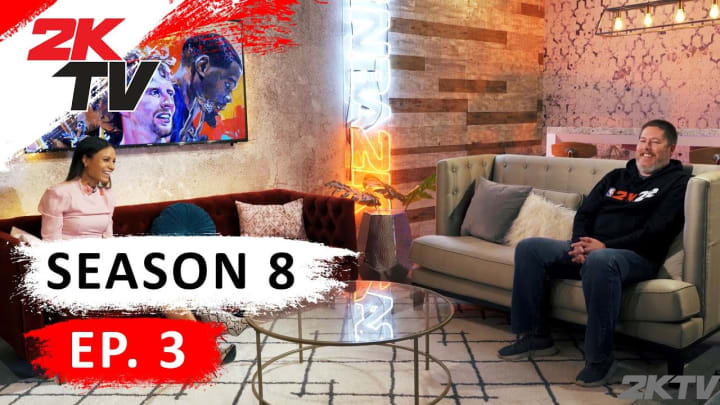 Looking for the answers to the 2KTV Episode 3 trivia questions in NBA 2K22? Look no further. / Photo courtesy of 2K
Episode 3 of 2KTV Season 8 is out now, returning to give players a behind-the-scenes look at all of the things that went into producing NBA 2K22, as well as plenty of opportunities to win some free VC.
For those looking to score up to 3,400 VC free of charge, here are all of the answers to the 20 trivia questions in 2KTV Season 8 Episode 3, "2K22 Game Modes."
NBA 2K22 2KTV Episode 3 Answers: 3,400 VC Available for Free
To access 2KTV in-game to answer the questions, you can find it in the main menu, as well as on your phone in MyCareer.
Here are all of the answers to the trivia questions in 2KTV Episode 3:
1. What level in Season 1 of MyCareer are you currently at?
    Choose any answer
2. What's the name of MP's business manager in MyCareer 2K22?
    Ricky
3. What rapper can you collaborate with in the new gen MyCareer 2K22?
4. What part of MyCareer in NBA 2K22 are you most excited about?
    Choose any answer
5. What is the name of the cruise ship in current gen MyCareer 2K22?
    Cancha Del Mar
6. How many colleges can you choose from at the start of your NBA 2K22 MyCareer?
    10
7. How often do you play MyCareer?
    Choose any answer
8. Which of the following is not a college you can attend in NBA 2K22 MyCareer?
    SFSU
9. How long does each season last in NBA 2K22?
    6 Weeks
10. Which game mode have you been playing the most in NBA 2K22?
    Choose any answer
11. Who is the Level 33 reward in Season 1 of MyTeam?
    Kelly Tripucka
12. Which team finished the 2021 WNBA season with most wins?
    Sun
13. Which player has dished out the most assists in NBA history?
    John Stockton
14. What 2K Compete Event rewards you for reaching a designated assist goal?
    Dime Time
15. Which player led the NBA in assists last season?
    Russell Westbrook
16. What is the Level 40 reward in Season 1 of 2K22 MyCareer?
17. What is the most points you scored in a single game of MyCareer?
    Choose any answer
18. What year did the Bucks win their first NBA championship?
    1971
19. Who led the Bucks in assists per game last season?
    Jrue Holiday
20. Who vets these MyCareer highlights?
    Choose any answer
As always, all the VC earned in 2KTV trivia is instantly added to your account, with no need to do anything extra in order to redeem it for use in any of the game's modes.
For more on NBA 2K22, feel free to check out our coverage of the 2KTV trivia answers for Episode 2 and Episode 1.