Top Games
NBA 2K22 MyTeam 3-Star Domination Guide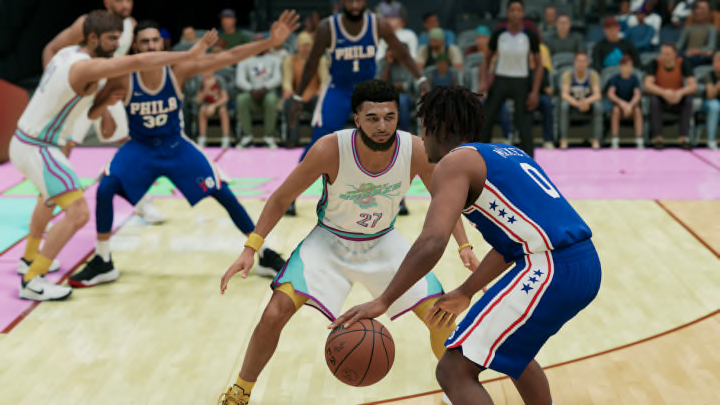 Wondering how to dominate NBA 2K22 MyTeam's domination mode? Look no further. / Photo courtesy of 2K
In NBA 2K22 MyTeam, getting 3-Stars in each of the Domination games is one of the best ways to get your squad head and shoulders above the competition, especially this early on in the year.
For those looking to dominate those games against the All-Star difficulty and up AI, here's a breakdown of how to easily win in NBA 2K22 MyTeam Domination on Current Gen and Next Gen.
NBA 2K22 MyTeam 3-Star Domination Guide
First off, before you hop into tip-off, here are essentials to have on your MyTeam in terms of personnel:
A speedy point guard. Any guard with a 75 speed or higher will do (e.g. Starter Trae Young).
A knockdown three-point shooter at shooting guard (e.g. Emerald Roger Mason).
A lockdown perimeter defender at small forward (e.g. Emerald Andre Roberson).
A mobile athlete at power forward who can roll and dunk (e.g. Sapphire Chris Boucher).
A big body who can roll at center (e.g. Sapphire Arvydas Sabonis).
For your bench unit, keep the same formula for the reserves.
To ensure that your players are properly optimized to their full potential, you can change up some settings before tip. Once you hop into the game, press start, go to Gameplan and then Offensive Settings. Here, go down and change Freelance to any 4-out-1-in setup except for "4-out-1-In Active" (e.g. Bucks 2018 and Hawks 2018).
On defense, playing on-ball is fine, but just don't try to bait steals in the passing lanes if you're off-ball. This is because this year, the AI defense is great, so just focus on stopping the ball and guarding the basket. Always keep in mind where your center is, because if someone is about to get a layup, switch to your five and get up.
On offense, simply run pick-and-rolls and burst to the rim. You're either going to get a mismatch switch for your big, or an easy layup. If you do get the switch, don't settle for post hooks. Just back them down and then press Square/X.
Ultimately, you don't really need a playbook or anything that crazy. Just look for what the defense gives you and exploit that, and play smart on the other end and run.
For more on NBA 2K22 MyTeam, feel free to check out our guide on the five best budget players to start with.