Top Games
NBA 2K22 Next Gen Dunk Style Creator Explained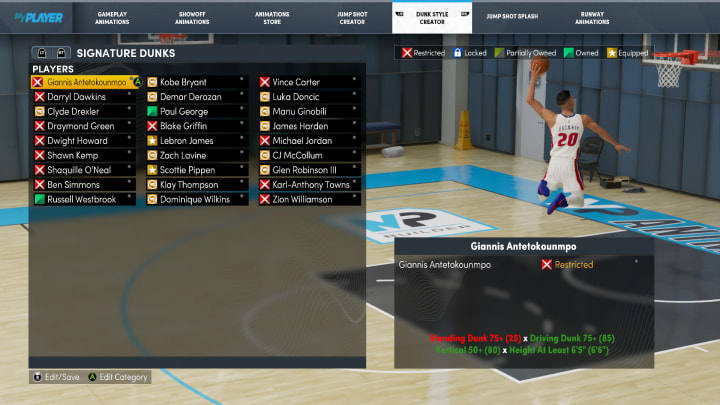 Here's a breakdown of the brand-new Dunk Style Creator in NBA 2K22 MyCareer on Next Gen. / Photo courtesy of Ralston Dacanay, 2K
In NBA 2K22 Next Gen, players have a new way of acquiring and equipping their MyPlayer dunk packages thanks to the addition of the brand-new Dunk Style Creator.
For those on PlayStation 5 and Xbox Series X|S wondering how it works and what it's capable of, here's a breakdown of the brand-new Dunk Style Creator in NBA 2K22 MyCareer on Next Gen.
NBA 2K22 Dunk Style Creator Explained
Contrary to what the description of the new feature might lead one to believe, the new Dunk Style Creator isn't actually a way for players to create their new animations, it's pretty much just a reorganization of how to buy and equip finishing animations, as still seen on NBA 2K22 Current Gen.
To use the Dunk Style Creator, players start by naming their new Dunk Package, just as in the Jump Shot Creator.
Then, players will be able to go through each of the five categories of dunk packages in NBA 2K22: Two Foot Moving Dunks, One Foot Moving Dunks, Standing Dunks, Signature Dunks and Alley-Oops.
Perhaps the best part of this new feature is that from Regular to Park and Contact iterations of dunks in each category, players can see which animations they can and can't equip based on their MyPlayer build's Height, Driving Dunk, Standing Dunk and Vertical.
Lastly, after players have bought and equipped each of their desired animations, as indicated by the yellow star icon, they can equip their newly-created Dunk Style package in the Scoring Moves section of the Gameplay Animations tab.