NBA 2K
NBA 2K23 Best Defense/Rebounding Badges: Current and Next Gen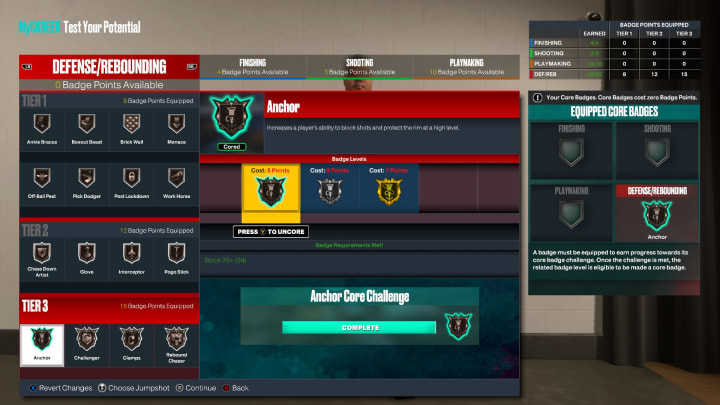 Here's a breakdown of the best Defense/Rebounding Badges to use in NBA 2K23 MyCareer on current and next gen. / 2K, screenshot by DBLTAP
In NBA 2K23 MyCareer, it remains crucial to equip the best Badges in order for your MyPlayer to maximize its potential, especially in the defense and rebounding department.
As such, aside from making sure that your controller settings, defense and rebounding attributes and build's physicals are all in check, it's imperative to know which of the new and revamped Badges are the best in the game.
Here's a breakdown of the best Defense/Rebounding Badges to use in NBA 2K23 MyCareer on current and next gen.
NBA 2K23 Best Defense/Rebounding Badges: Current and Next Gen
Of course, which Badges and what levels of those Badges you end up using will all depend on your build and your play style.
As such, we'll be breaking down what the best Defense/Rebounding Badges are depending on if you're mostly playing defense as a point-of-attack defender or a help/anchor off the ball. The Badges will be ranked in terms of how you should likely prioritize equipping them.
Best Defense/Rebounding Badges: On-Ball
Glove
Clamps
Challenger
Interceptor
Pick Dodger
Menace
Work Horse
Ankle Braces
Chase Down Artist
Anchor
Rebound Chaser
Boxout Beast
Off Ball Pest
Brick Wall
Pogo Stick
Post Lockdown
For those who mostly guard the opposing team's primary ball-handler, Glove and Clamps are the two most powerful Badges. Challenger is essentially Intimidator from previous years, but just for perimeter contests. In theory, Interceptor, Pick Dodger and Ankle Braces could have more value, but they don't seem to be all that strong this year.
Best Defense/Rebounding Badges: Off-Ball/Big
Glove
Rebound Chaser
Anchor
Interceptor
Brick Wall
Boxout Beast
Pogo Stick
Challenger
Clamps
Work Horse
Chase Down Artist
Menace
Post Lockdown
Pick Dodger
Ankle Braces
Off Ball Pest
For those who mostly set up off the ball or in the paint, we'd definitely prioritize the options that reward you for playing your role correctly. Glove remains the no-brainer option at the top, however, given its strength.
---
For more on NBA 2K23, feel free to check out: