NBA 2K23 Core Badge Patterns Explained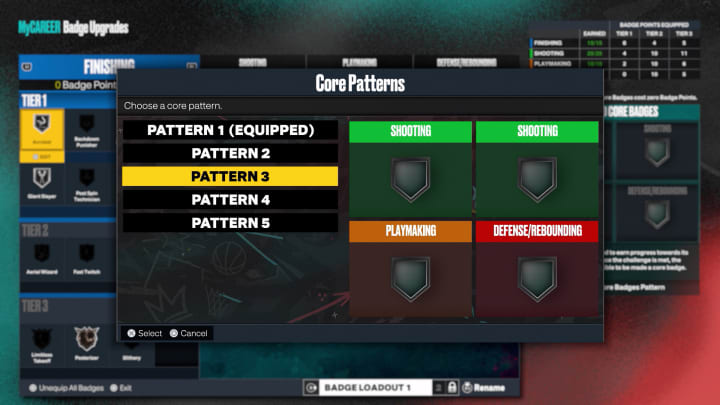 "Now, you can change the pattern of your core badge slots!" / 2K
With the launch of Season 3 in NBA 2K23, 2K is potentially set to shake up the meta for next-gen players once again with the addition of a brand-new component: Core Badge Patterns.
For those wondering these are and how to use them, here's a breakdown of everything you need to know about Core Badge Patterns in NBA 2K23 MyCareer on next gen.
NBA 2K23 Core Badge Patterns Explained
Core Badge Patterns are set to be an expansion of Core Badges, which were just introduced to next gen players with the initial release of NBA 2K23. As many next-gen player can attest, Core Badges have already proven to be extremely important in that short span of time.
Core Badges give players four unique Badge slots (one per Attribute category) that can be filled with Badges that don't count toward their builds' original Badge Point potentials. This is especially useful since it allows players to equip those expensive Tier 2 and 3 Badges for free.
With the addition of Core Badge Patterns, however, players are essentially being given more options as to which Badges they want to core. By default, the Core Badge slots are set up for 1 Finishing, 1 Shooting, 1 Playmaking, and 1 Defense/Rebounding.
For those who manage to hit Level 40 in Season 3, however, you get the first batch of Core Badge Patterns to use:
2 Finishing, 1 Playmaking, 1 Defense/Rebounding
2 Shooting, 1 Playmaking, 1 Defense/Rebounding
1 Finishing, 2 Playmaking, 1 Defense/Rebounding
1 Finishing, 1 Playmaking, 2 Defense/Rebounding
As seen here, the value of subbing out the default setup for one of these will vary from build to build and there's no option yet that sacrifices Playmaking completely to gain something else. However, for those who do find any of these configurations useful already, it's easy to see how Core Badge Patterns could drastically change things up moving forward.
---
NBA 2K23 Season 3 is set to launch worldwide on Friday, Dec. 2, at 11 a.m. ET.
For more on NBA 2K23, feel free to check out: