Overwatch 2 Shop Rotation: How Does it Work?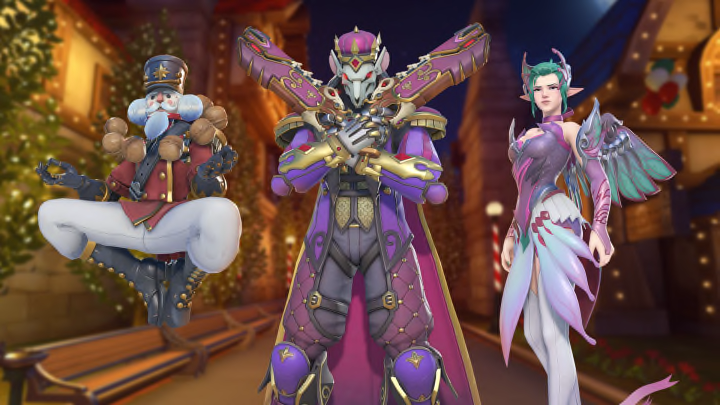 "What you see is exactly what you're going to get." / Blizzard Entertainment
Perhaps one of the most drastic changes that players have had to get accustomed to heading into Overwatch 2 with its new seasonal, free-to-play model has been the substitution of its Loot Box system for an in-game item shop.
Here's a breakdown of everything you need to know about the item shop and its rotation in Overwatch 2.
Overwatch 2 Shop Rotation: How Does it Work?
Per Blizzard, the "Featured" section of the item shop in Overwatch 2 rotates new cosmetic items every week for all players, many of which follow a theme.
At the moment, many of the featured skins tie into either the Season 2 theme of Greek Mythology, or the holidays to accompany the ongoing Winter Wonderland 2022 event.
Additionally, the Overwatch 2 item shop features a "Just for You" section that is said to be personalized offers based on what you prefer to play and equip in-game, as well as rotating bundles. In the "first few seasons" of Overwatch 2, the Just for You shop and rotating bundles will feature items from the original Overwatch to allow players to catch up if they need.
This is our chance to feature different items regularly and to celebrate special occasions and moments.

- Blizzard on the Just for You section
All of the offerings in the Featured and Just For You sections can be bought with Overwatch Coins, which have effectively replaced the now-obsolete Legacy Credits as the trading chips for seasonal cosmetics, as well as the battle pass.
Aside from these offerings, the Overwatch 2 item shop also has an Overwatch League section, which sells team-specific skins and special event skins in exchange for Overwatch League Tokens, as usual.
Lastly, the Overwatch 2 item shop has two other tabs that don't rotate nearly as much: Seasonal and Heroes. The Seasonal tab lists Seasonal Offers and New Hero Launch Offers, while the Heroes tab allows players to buy previously released Heroes that they haven't yet unlocked, as well as their Starter Packs.