Apex Legends
Post Malone Apex Legends 'Gaming for Love' Charity Streams Announced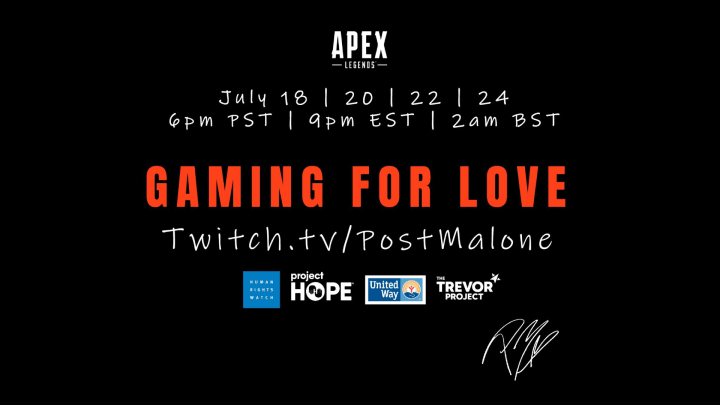 This week, Post Malone will be hosting Apex Legends Twitch streams to generate proceeds for four different charities. / Image courtesy of Post Malone
Avid Apex Legends player and American rapper, singer, songwriter and record producer Post Malone is officially back on the streaming grind after announcing his "Gaming for Love" charity stream schedule Monday.
It's no secret that in his off time, Post Malone is a big fan of Apex Legends. And although Posty has shown up on other popular Apex content creator's streams from time to time recently, his Gaming for Love slate marks the first streams hosted on his personal Twitch account since January 2018.
"This was an idea that we had a little while back," Post Malone said at the start of his July 18 stream. "I love playing video games and I love Apex Legends and I got a lot of great friends and we just wanted to play games and have a good time and just show support for the beautiful people around the world and we got a couple of charities we're donating to in the next week or so.
"We just wanted to show support and stand in solidarity. There's a lot of beautiful in this world, but there's also a lot of wrong that happens and we just wanted to make sure everybody feels like they're not alone."
Post Malone officially got things started off Monday with a near 8-hour-long stream dedicated to the Humans Rights Watch.
In that time, viewers not only were treated to an Apex session that included who Post Malone coldly referred to as "one great player" in NRG streamer Brandon "aceu" Winn and "one shitty player" in American rapper Ski Mask the Slump God, but also managed to eclipse the steam's goal with $20,761.61 raised for the cause.
Per Twitch Tracker, Post Malone's July 18 stream averaged over 20,400 viewers and peaked at 23,701, putting him at the top of the category alongside aceu.
Up next, Post Malone is scheduled to stream on July 20, July 22 and July 24, with each starting at 9 p.m. ET. Project HOPE, United Way and The Trevor Project are the organizations that are slated to be featured moving forward.
According to Dot Esports, Respawn Entertainment has contributed to the cause with a $10,000 donation to each charity.