Post Malone Calls for Pathfinder and R-301 Buffs in Apex Legends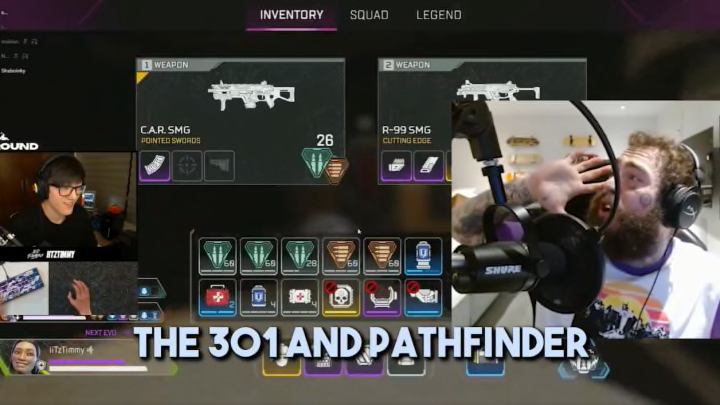 Post Malone and iiTzTimmy want these buffs in Apex Legends: Ignite. / iiTzTimmy
In a rare stream with iiTzTimmy, Post Malone agreed that Pathfinder and the R-301 need buffs in Apex Legends Season 19.
Apex Legends: Ignite might have launched with Conduit as the season's headliner, but Grammy-nominated artist, Post Malone, has quickly taken over the Battle Royale in November. As an avid Apex Legends fan, Post Malone partnered with Respawn Entertainment to bring the limited-time Post Malone x Apex Legends Event to the game. With new mode, Three Strikes, free Twitch drops, and several "Iconic" skins, the event has delivered on all fronts.
To celebrate the event's success, Post Malone hosted an exclusive stream yesterday as he played Three Strikes with several prominent content creators. In one match with 100 Thieves' Timothy "iiTzTimmy" An, the two shared their massive request for the Apex Legends developers.
Post Malone Calls for Pathfinder and R-301 Buffs in Apex Legends
In a viral clip from their stream, Post Malone and iiTzTimmy called for Pathfinder and R-301 buffs in Apex Legends. The popular Legend and assault rifle have somewhat fallen out of the Season 19 meta as other overpowered weapons and Legends take over the game.
"You're the only one who can save us," iiTzTimmy told Post Malone. "Tell them to buff the 301 and Pathfinder again."
The musician then joking screamed behind him, "Hey, will you guys buff the 301 and Pathfinder again?" After a brief pause, he continued, "They have to do it."
Although there has been no official response from the developers, the clip already has 186,000 views on X in less than 24 hours. The 100 Thieves X account even replied, "If nobody got us posty got us." Moving forward, it will be interesting to see how the public outcry translates into in-game changes.
Is Pathfinder Getting a Buff in Apex Legends Season 19?
Of the two requests, a Pathfinder buff feels less likely. The Legend is still the third most popular in the game according to pick rates on Apex Legends Status, behind only Conduit and Octane. As long as the Legend maintains its 8% pick rate, then Respawn Entertainment will likely not rush to make any rash changes.