Two Modern Warfare Weapons Still Have Top-5 TTKs in Warzone Season 3 Reloaded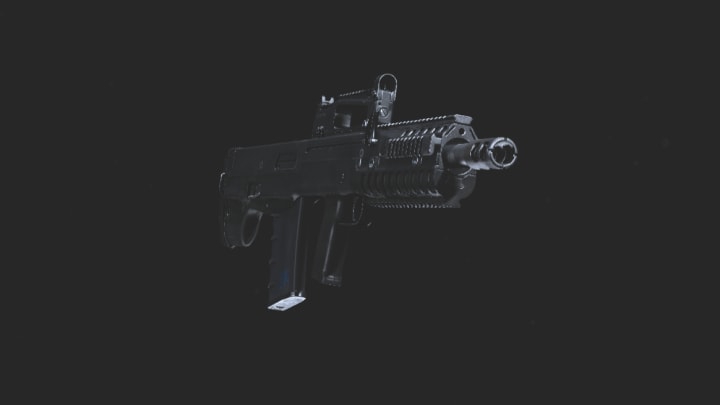 "We're looking at a sub-800 ms TTK at 81 meters. Absolutely absurd." / Image courtesy of Activision/Screenshot: Ralston Dacanay
In the current weapon meta in Call of Duty: Warzone Season 3 Reloaded, it's been long established that in order to keep up with the absolute best of the best, you almost have to be running some Vanguard options.
In a game like Warzone, where you can go from full plates to the Gulag at any moment's notice, it's no surprise that one of the most closely watched stats for every gun that enters the fray is time-to-kill (TTK).
Although having a high TTK doesn't necessarily mean a weapon will also be top-tier viable, as factors like handling and magazine size have to be taken into account as well, it's always interesting to see just what are the fastest-possible TTK guns in the game. According to Warzone content creator WhosImmortal, however, it appears two of the top five highest TTKs in the game at the moment somehow belong to two long-forgotten Modern Warfare weapons — the Fennec SMG and the Oden assault rifle.
Warzone Season 3 Reloaded Top 5 TTKs List
In WhosImmortal's most recent Top 5 TTK weapons in Warzone video, they revealed that the order currently goes:
Oden
BAR
NZ-41
Type 100
Fennec
Best Fennec Weapon Loadout Warzone Season 3 Reloaded
As mentioned by WhosImmortal, via stats provided by TrueGameData, the Fennec has a sub-650 ms TTK through about 19-20 meters before it drops off. Fittingly enough, with Warzone nearing its fourth season in the Vanguard era, the Fennec first made its COD debut just about two years ago in Modern Warfare Season 4 in June 2020.
Fennec / Image courtesy of Activision/Screenshot: Ralston Dacanay
For those looking to use the Fennec, feel free to try out WhosImmortal's recommended weapon loadout for it:
Barrel: ZLR 18" Deadfall
Underbarrel: Merc Foregrip
Laser: Tac Laser
Magazine: 40 Round Drum Mags
Stock: No Stock
Best Oden Weapon Loadout Warzone Season 3 Reloaded
Oden / Image courtesy of Activision/Screenshot: Ralston Dacanay
Near the end of the video, WhosImmortal revealed the "absolutely absurd" TTK powerhouse that is the Oden from Modern Warfare. Nearly three years after its initial launch with MW in October 2019,
Now, it is important to mention that WhosImmortal did preface their Oden segment by mentioning that there's a reason why it's not used much — it's extremely sluggish to ADS and move around with, and has a bad recoil pattern. Going by pure TTK stats, however, the Oden is capable of a sub-800 ms TTK at 81 meters.
For those willing to give it a try, here's WhosImmortal's Oden weapon loadout:
Muzzle: Colossus Suppressor
Barrel: Oden Factory 810 mm
Underbarrel: Commando Foregrip
Magazine: 30 Round Mags
Optic: VLK 3.0x Optic
---
For more on Call of Duty, be sure to check out our top five lists:
Additionally, feel free to check out our timeline on the history of the Call of Duty franchise!