Warzone 2 LMG Tier List: December 2022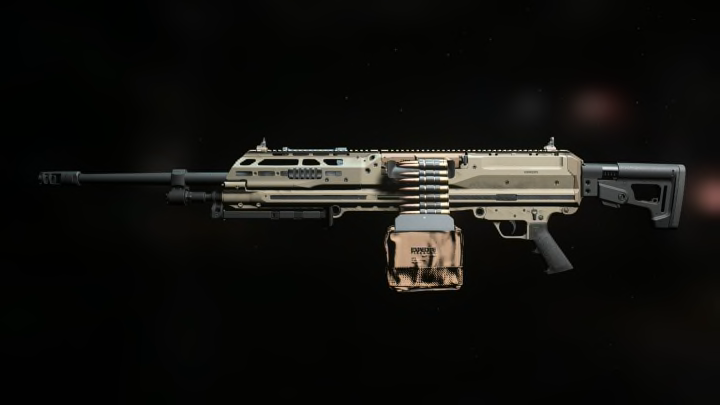 DBLTAP's LMG tier list for Call of Duty: Warzone 2 Season 1 Reloaded, updated for December 2022. / Activision, screenshot by Ralston Dacanay
Our Call of Duty: Warzone 2 LMG tier list for December 2022 is here, going over which of the guns are the best to use now that the new meta has settled down following the launch of Season 1 Reloaded.
Although none of the LMGs were touched in the Season 1 Reloaded patch, players have continued to figure out what the weapon meta is on Al Mazrah. As such, here is how the LMGs stack up in Warzone 2 Season 1 Reloaded in December 2022.
Warzone 2 LMG Tier List: December 2022
S Tier
RPK / Activision, screenshot by Ralston Dacanay
Sitting atop the LMG mountaintop is the RPK, which surprisingly wasn't nerfed whatsoever in the Season 1 Reloaded patch. Perhaps the pride and joy of what is an already stacked Kastovia Platform, the RPK plays like a Pack-a-Punched gun in Warzone 2. With its 75-round drum mag and devastating TTK, the RPK is a no-brainer pick for any player at the moment, regardless of whether or not they usually use LMGs.
A Tier
RAAL MG / Activision, screenshot by Ralston Dacanay
Alone in the RAAL MG, which is one of the better sleepers to use in the current meta. Although it isn't quite as good as the RPK, the RAAL MG is a beast when compared to most of the field thanks to its sheer damage.
B Tier
SAKIN MG38 / Activision, screenshot by Ralston Dacanay
SAKIN MG38
HCR 56
RAPP H
556 Icarus
Lastly, in the B Tier are the four LMGs that prove to be viable options, but nothing to truly write home about considering how strong the two above are. Feel free to use any of these, but their ceilings aren't quite as high as most of the other options available right now.
---
For more on Call of Duty, be sure to check out our top five lists:
Additionally, feel free to check out our timeline on the history of the Call of Duty franchise!