Apex Legends Wintertide Collection Event: All Legend and Weapon Skins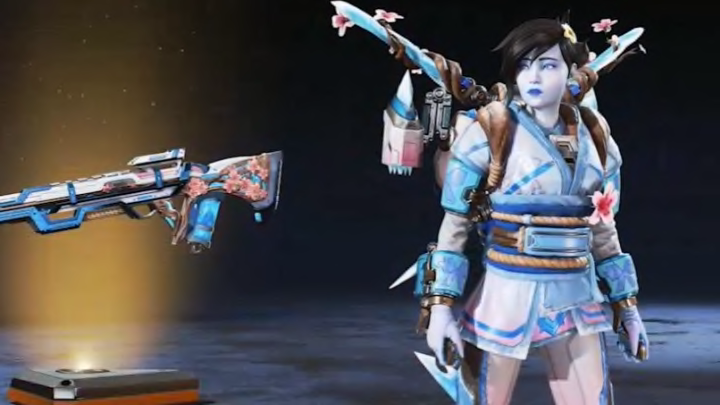 Respawn Entertainment
Respawn Entertainment's brand-new Wintertide Collection Event is slated to get started very soon in Apex Legends: Eclipse, bringing players a breadth of new holiday-themed cosmetics to collect.
Here's a breakdown of all of the skins that players can pick up during the Apex Legends Wintertide Collection Event.
Apex Legends Wintertide Collection Event: All Legend and Weapon Skins
In addition to the return of the limited-time mode, Winter Express, there are 16 Legend skins and four weapon skins to be had, in particular, out of the 24 total items up for grabs in the Wintertide collection. Available as well during the event are two additional skins via the Wintertide reward track, as well as the Wraith Prestige Skin collection reward.
Epic "Below Zero" Horizon Skin
Epic "Tundra Thunder" Mad Maggie Skin
Epic "Frostwalker" Mirage Skin
Epic "Stay Frosty" Wraith Skin
Legendary "The Night Queen" Bangalore Skin
Legendary "Shard Splitter" CAR Skin
Legendary "Elf Made" Crypto Skin
Legendary "Cold Compress" HAVOC Skin
Legendary "Mane Event" Newcastle Skin
Legendary "Soldier Side" Peacekeeper Skin
Legendary "Frozen Blossom" Valkyrie Skin
Legendary "Frozen Rope" Triple Take Skin
Legendary "Bone Chill" Bloodhound Skin
Legendary "Ice Ranger" Prowler Skin
Legendary "Frozen Magma" Gibraltar Skin
Legendary "Freezer Burn" R-99 Skin
Mythic "Apex Voidshifter" Wraith Prestige Skin
Epic "Magic Snow Beast" Alternator Skin
Epic "Rune Rock" Gibraltar Skin
The Apex Legends Wintertide Event will run from Tuesday, Dec. 6, to Tuesday, Dec. 27, giving players just enough time to complete its three unique weekly challenge tracks and 24-item collection.