Apex Legends
Apex Legends x Monster Energy Planned Cosmetics Collab Leaked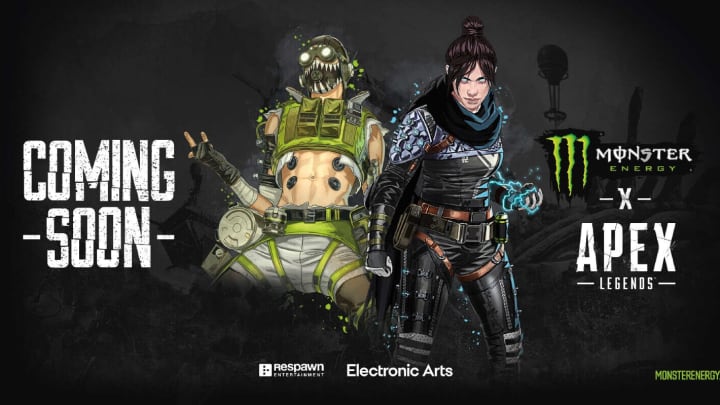 An Apex Legends dataminer has discovered limited-time in-game cosmetics coming soon just before the launch of Emergence. / Photo courtesy of Monster Energy, Respawn Entertainment
An Apex Legends dataminer has put together the puzzle pieces in what appears to be a limited-time promotion adding special-themed cosmetics to the game in the coming weeks.
For energy drink enthusiasts who happen to also enjoy their daily dose of Apex Legends, this upcoming collab is sure to be wake-up call.
According to Shrugtal, one of the next major collab in gaming this year will be between Respawn Entertainment and Monster Energy, who became the official energy drink sponsor of the Apex Legends Global Series (ALGS) back in March.
Just before the upcoming launch of Apex Legends' 10th season, Emergence, the collab is set begin its process in bringing Monster Energy-themed skins, Banner Frames, Holo Sprays and Badges to the title.
Starting on Aug. 1, select cans of Monster Energy with promotional codes will be hitting stores for players to purchase, which were first seen overseas.
Although the cans will officially go on sale in August, players looking to participate in the promo will have to keep their purchase receipts nearby as the codes will only be redeemable from the official Monster Energy website starting Sept. 1, and ending on Dec. 31, 2021.
Shrugtal confirmed there will be a total of two rare legend skins, two weapon skins, three Banner Frames and three Holo Sprays up for grabs:
Abstract Splash Octane legend skin
Energy Transfer Wraith legend skin
Electric Momentum HAVOC Rifle weapon skin
Vapour Trail Volt SMG weapon skin
Aces High Fuse Banner Frame
High Voltage Wattson Banner Frame
The Formula Octane Banner Frame
Charged Up Holo Spray
Energy Holo Spray
Free your speed Holo Spray
Additionally, according to Shrugtal, the neon-green High Energy Badges—which have reportedly already been seen in-game by some players after the 9.1 update—will have upgradable tiers to progress though as players redeem more codes.