Best Caldera Landing Spots in Warzone Season 4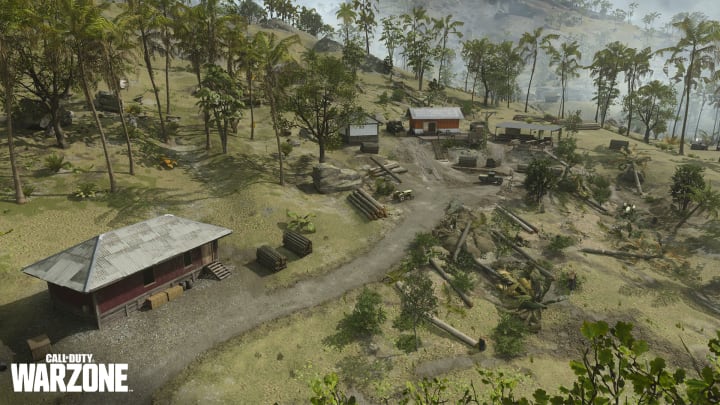 Here are five of the best spots to drop in Caldera during Call of Duty: Warzone Season 4. / Image courtesy of Activision
Although Fortune's Keep has certainly been the star of Call of Duty: Warzone Season 4 so far, it's worth mentioning that Caldera has been far from neglected by the developers either, having received its own multitude of new content for players to explore.
Whether you're looking to queue up in solos, duos, trios or quads, here are our top five suggested landing spots to drop in Caldera during Call of Duty: Warzone Season 4: Mercenaries of Fortune.
5 Best Season 4 Caldera Landing Spots
5.

Beachhead
Beachhead / Image courtesy of Activision
Kicking off the list is the Beachhead point of interest (POI). One of the most underrated, yet biggest risers over the seasons, Beachhead now has a ton of buildings and climbable objects that are perfect for taking early fights.
4.

Fields
Fields / Image courtesy of Activision
For those playing with some teammates, Fields remains to be a great early-game option on Caldera in Season 4. With plenty of buildings and space to manage, Fields is a great place to gear up for groups.
3.

Sub Pen
Sub Pen / Image courtesy of Activision
Sub Pen is one of, if not the best place to land for solos since it's often times the safest POI, yet still has a bunch of loot. Thanks to its array of small, enclosed spaces in the form of corridors and underground hangers, odds are you won't get third-parted here.
2.

Storage Town
Storage Town / Image courtesy of Activision
Next is the longtime Verdansk-original, fan-favorite POI, Storage Town. Newly added to Caldera on the western part of the map in between Mines, Airfield, Village and Dig Site, Storage Town is said to be "roughly as veterans remember it," with its array of storage lockers filled with Contracts and item spawns, as well as a few warehouses that allow players to easily overlook the area.
1.

Peak
Peak / Image courtesy of Activision
Lastly, at the No. 1 spot is the POI that's receiving the most tweaks and attention from Raven Software over the seasons: Peak. This POI remains to be the hottest drop on Caldera for good reason. It has tons of loot, and its height and positioning on the island mean that those who manage to take control of it in any match are set up for success.
---
For more on Call of Duty, be sure to check out our top five lists:
Additionally, feel free to check out our timeline on the history of the Call of Duty franchise!