Call of Duty
Best Perk Packages in Warzone 2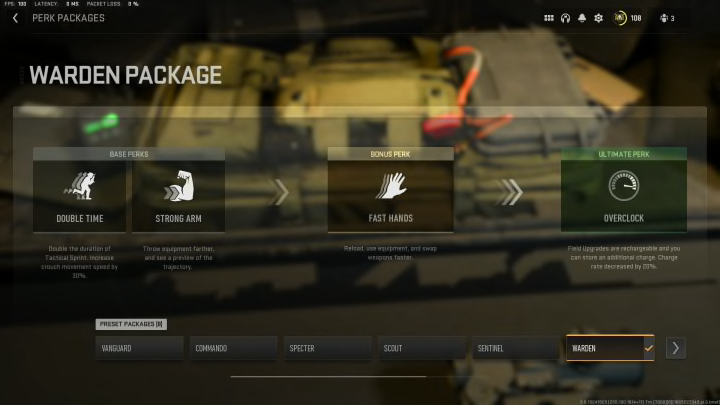 Activision, screenshot by Ralston Dacanay
In Call of Duty: Warzone 2.0, one of the biggest changes that players have had to adjust to is the introduction of Perk Packages in custom loadouts.
While creating a custom loadout in Warzone 2, players will no longer be able to tailor their Perks exactly to their preferences as they are now prompted to select one of the game's eight pre-made Perk Packages, said to have been adapted to various unique playstyles. As such, here's a breakdown of the best Perk Packages to use in Warzone 2.
Best Perk Packages in Warzone 2
3.

Weapon Specialist
Weapon Specialist Package / Activision, screenshot by Ralston Dacanay
Kicking things off is the only Perk Package at the moment that has Overkill: Weapon Specialist. This is simply the route to go if you want to get both of your weapons as quickly and easily as possible, just how things were in the original Warzone. It is worth mentioning that, at least early on, it might not be worth investing in this pick as there's not much else in this offering that is top-tier.
2.

Specter
Specter Package / Activision, screenshot by Ralston Dacanay
Up next is Specter, which should be the go-to pick for those who simply find having Ghost on as a requirement for endgame. Additionally, you do get Double Time and Tracker here, which are two incredibly useful Perks. However, considering the lessened availablity of UAVs in Warzone 2, it can be argued that Ghost simply isn't as important to have as it was before.
1.

Commando/Warden
Warden Package / Activision, screenshot by Ralston Dacanay
Lastly, you'll notice that we have two Perk Packages here. This is because we view them as the 1A and 1B of the bunch simply due to both of them having one Perk in particular: Fast Hands. As most Modern Warfare II players can attest, the reload times and equipping animations are painfully long in the new engine, and can often be the reason why you end up dying. While the Commando package does feature Scavenger and High Alert, the Warden package's additional inclusion of Double Time makes it the ultimate the choice for those looking to drastically improve their movement. A department that has overall been a toned-down experience so far.
---
For more on Call of Duty, be sure to check out our top five lists:
Additionally, feel free to check out our timeline on the history of the Call of Duty franchise!