Apex Legends
First Glimpse of the New Apex Legends Map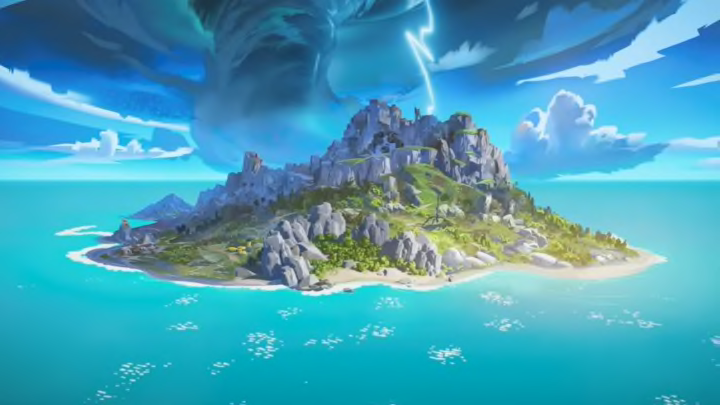 The Tropical Island map in Apex Legends / Credit to Respawn/EA
The Apex Legends: Escape launch trailer has just been released, giving players their first good look at the new Tropical Island map and some of the new content coming with it.
The Terrain
In the trailer, the new map features white-sanded beaches with bright blue water surrounding dense forests that have a darker, more ominous tone. Some other interesting settings shown in the trailer are a massive crashed ship that has been infested with huge spiders and some steep cliffs with only thin bridges connecting them.
All of these scenes confirm certain points of interest labeled in an earlier leak that gave detailed information about the entire map. For instance, the crashed ship shown in the trailer confirms an area of the map labeled The Odysseus. There are also cliffs covering most of the map that carve out the rotation and choke points.
There is no indication what points of interest will find their way into Arenas, but parts of the island will likely be added to Arenas mode's map rotation.
Aggressive Wildlife
One of the most interesting mechanics that the Season 11 launch trailer featured was the inclusion of different animals that function as AI enemies. This confirms leaks from Shrugtal, a reputable data miner, who found that Respawn had been experimenting with AI labeled "wildlife."
If every animal featured in the trailer is coming to the new map then players will have to deal with three new potential enemies. There are prowlers similar to the ones found in Bloodhound's trials in World's Edge, huge spiders that might be capable of slowing or even trapping players and Flyers similar to the ones inhabiting King's Canyon. But what the trailer doesn't show is how these animals will function or how they'll be dispersed over the map. They could each be confined to their own specific areas or they could be randomly spread across the map.
Apex Legends Season 11: Escape launches on Nov. 2.