NBA 2K
How to Unlock Mamba Mentality in NBA 2K23: Current and Next Gen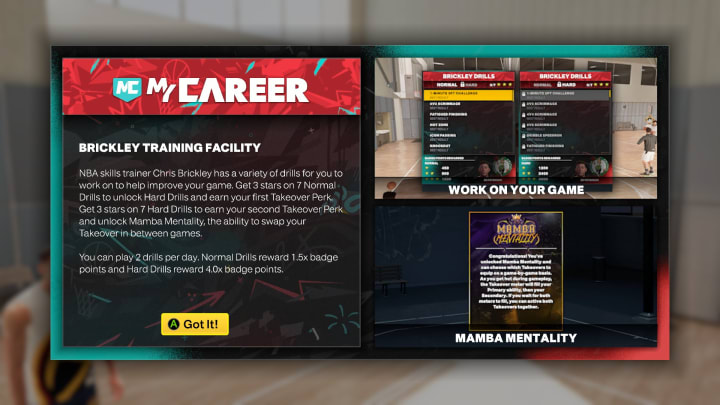 Here's a breakdown of how to unlock Mamba Mentality in NBA 2K23 MyCAREER on Current Gen and Next Gen. / Image courtesy of 2K/Screenshot: Ralston Dacanay
In NBA 2K23, Mamba Mentality returns as one of the most significant ways players can separate their games from the rest of the pack online in MyCAREER.
As seen in previous years, Mamba Mentality is not only a tribute to the late, great Kobe Bryant, but also a highly coveted boon to collect in NBA 2K23 MyCAREER as it gives players the ability to switch their equipped Takeovers as they please. Here's a breakdown of how to unlock Mamba Mentality in NBA 2K23 MyCAREER on Current Gen and Next Gen.
How to Unlock Mamba Mentality in NBA 2K23: Current Gen
Debuting for the first time on Current Gen, Mamba Mentality is indeed available for players to unlock on the G.O.A.T. Boat by completing two NPC questlines:
Go to the Silver Deck's Promenade
Find the NPC named Pippa, who's wearing a teal shirt near New Balance store
Complete Pippa's questline
Meet with El Capitan Samuel Deuces
Complete Samuel's questline
Win a 1v1 game against Pippa in MyCOURT
Receive Mamba Mentality as a reward
Ultimately, getting these quests done is very beneficial as it also opens up the pathway to earning the Gym Rat Badge.
How to Unlock Mamba Mentality in NBA 2K23: Next Gen
For those on Next Gen, the Mamba Mentality quest once again given by NBA trainer Chris Brickley.
After completing the NBA Summer League game, players will receive a bunch of intro quests, including Mamba Mentality.
To complete the quest this time around, players will need to get three stars on seven different Normal Drills and three stars on seven different Hard Drills.
The catch is players can only do up to two Brickley Drill a day. In theory, this means that it would take at least one week to complete the quest.
Along the way, players will also earn two Takeover Perks by completing the drills.
---
UPDATE 9/16/22: Alternatively on Next Gen, players are reporting that you can also earn Mamba Mentality after earning all of your potential Badges.
---
For more on NBA 2K23, feel free to check out: