Top Games
NBA 2K22 Next Gen Takeover Tier List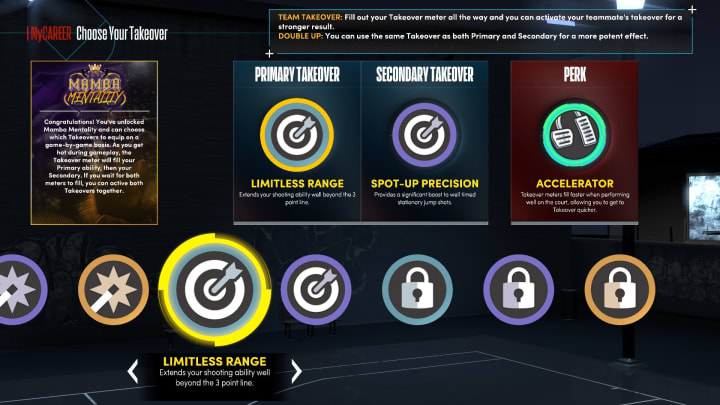 Here is a tier list of the Takeovers players can choose from in NBA 2K22 MyCareer on Current Gen and Next Gen. / Photo courtesy of Ralston Dacanay, 2K
A staple of NBA 2K22 MyCareer, the type of build players make will allow them to select a number of different Takeover abilities that can break games wide open once they've built up enough momentum.
For those looking to ensure that their MyPlayer is able to live up to the moment when the lights are at their brightest, here is a tier list of the 24 Takeovers in NBA 2K22 MyCareer on Next Gen.
NBA 2K22 Takeover Tier List: Next Gen
S Tier
Negative Impact
Anklebreaking Shots
Pull-Up Precision
Extreme Clamps
Spot-Up Precision
Advanced Gathers
Paint Intimidation
Enhanced Jumpshot Contests
Advanced Post Moves
In S Tier are nine options that will allow your MyPlayer to take over the ball game with ease depending on your playstyle and build. At the top of the category, a lot of the shot creating Takeovers receive higher priority due to the way the shooting has been changed this year. With standstill jumpers being easier to make, the value of the shot creating takes have gone up.
A Tier
See the Future
Finishing Moves
Stuff Blocks
Power Backdowns
Team Ratings Boost
In A Tier are five more Takeovers that are heavily effective, but may require more skill and game planning in order to get the most out of equipping them. They aren't as straightforward to equate to winning plays as the options above.
B Tier
Limitless Range
Easy Blowbys
Perimeter Badge Drop
Interior Badge Drop
Team Badge Boost
Post Shot Daggers
In B Tier are six options that aren't bad, but at the same time aren't as powerful as the offerings above them.
C Tier
Glass Clearing Dimes
Post Playmaking
Boxout Wall
Team Takeover Boost
Lastly, in C Tier are four Takeovers that just aren't worth spending a slot on due to how effective the rest of the field is. For more on NBA 2K22 MyCareer, feel free to check out our guides on the best Shooting, Playmaking, Defense/Rebounding and Finishing Badges to use.