NBA 2K
NBA 2K23 MyCareer Best Takeover Perks: Current and Next Gen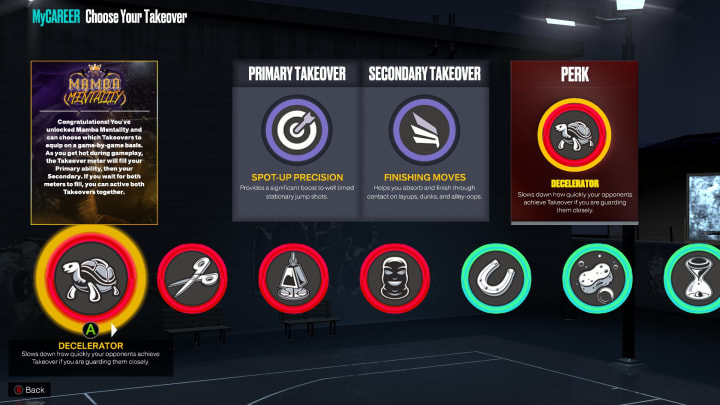 Here's a breakdown of the best Takeover Perks to use in NBA 2K23 MyCareer on Current and Next Gen. / 2K, screenshot by DBLTAP
In NBA 2K23 MyCareer, players on both Current and Next Gen can unlock and equip Takeover Perks, which personalize and modify how the Takeover abilities can function.
For those looking to maximize their build's performance, here's a breakdown of the best Takeover Perks to use in NBA 2K23 MyCareer on Current and Next Gen.
NBA 2K23 MyCareer Best Takeover Perks: Current and Next Gen
All 10 of the Takeover Perks from last year return in NBA 2K23.
Ultimately, the top three Takeover Perks that I would recommend for players to use in NBA 2K23 are Sponge, Juice and Accelerator, mostly thanks to their abilities to be effective in a lot of situations.
First off, being that getting Accelerator is a bit trickier this year, Sponge is a nice alternative to use. Essentially, Sponge gives you a small boost to your own Takeover meter whenever any of your teammates makes a good play. Although the boost itself can be small in some cases, it does add up to get your Takeover faster.
Next, Juice is a good one to have for those who don't find themselves having too much trouble getting their Takeovers in-game, and instead are looking to make their Takeovers pack more of a punch.
Lastly, Accelerator still remains supreme. By being able to get your Takeover fast as possible, Accelerator is simply going to be the best choice for most players in NBA 2K23.
---
For more on NBA 2K23, feel free to check out: