NBA 2K23 MyPoints Accelerator: How to Get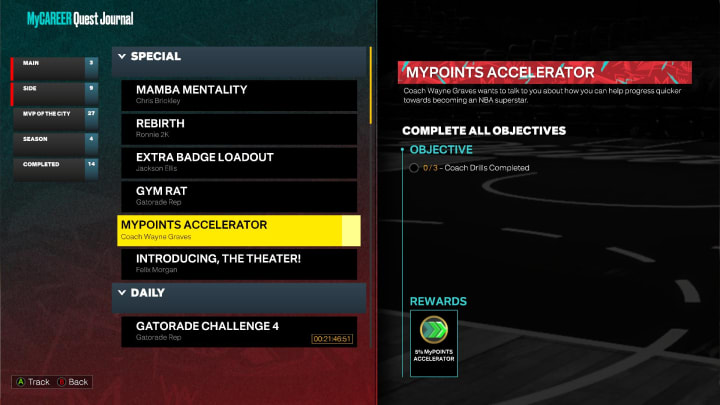 Here's a breakdown of how to unlock the MyPoints Accelerator in NBA 2K23 MyCareer on Next Gen. / Image courtesy of 2K/Screenshot: Ralston Dacanay
Towards the beginning of Next-Gen players' journeys in NBA 2K23 MyCareer, there is a very important questline that awards a 5% MyPoints Accelerator bonus once completed.
The bonus is activated right away, boosting the amount of MyPoints players earn to unlock their next Attribute upgrades. Here's a breakdown of how to get the MyPoints Accelerator at the start of NBA 2K23 MyCareer on Next Gen.
How to Complete Coach Drills in NBA 2K23
Similar to last year's College and G League rewards, NBA 2K23 presents players with two especially important quests early on — one that nets players four extra Badges and another that awards the MyPoints Accelerator.
The "MyPoints Accelerator" quest is given once players complete the "Welcome to the League" quest and become a starter.
To complete the "MyPoints Accelerator" quest, players will simply need to complete three Coach Drills.
Ultimately, the only "hard" part so to speak about getting this done is figuring out where and when the drills are available. For those who played NBA 2K22, the process is pretty much the same.
After about every one or two NBA games, players will receive the "Scheduled Coach Drills" side quest. Its objective will ask you to go to the Team Practice Facility and talk to the Head Coach to get started. The coach will be in the middle of the facility between the two practice courts. Approach the NPC and interact with them to begin the drills.
Once players repeat this process and get three sets of Coach Drills done, they'll earn a permanent 5% MyPoints Accelerator to speed up the process of upgrading their MyPlayers.
While on the grind, be sure to do the daily drills in the Brickley Gym as well to earn more easy MyPoints and Mamba Mentality.
---
For more on NBA 2K23, feel free to check out: