Overwatch Anniversary Remix: Vol. 1 Week 1: How to Earn Nano D.Va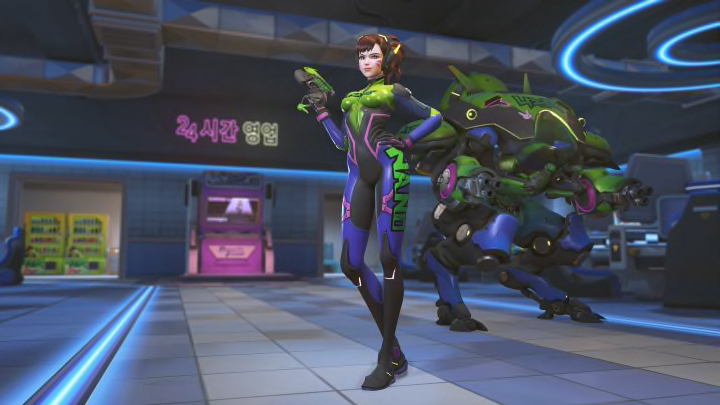 Nano D.Va will make its return as a Week 1 challenge reward during the Overwatch Anniversary Remix: Volume 1 event. / Image courtesy of Blizzard
The Overwatch Anniversary Remix: Volume 1 Week 1 challenges will soon be live, giving players an extra chance to earn the Nano D.Va skin.
Weekly challenges are an exciting way for players to earn free skins during Overwatch events. As standard procedures go during limited time events in Overwatch, players will need to complete three stages of challenges within seven days to unlock some free cosmetic rewards well worth their efforts.
From April 5 to April 11, players will have the opportunity to grab the first of three previously released Epic mini-event skins when the event's first set of weekly challenges becomes active.
Whereas D.Va's Nano Cola Challenge mini-event in 2018 originally required players to win games, the skin's 2022 limited-time return simply invites players to play matches:
Play 9 Games: earn two Nano D.Va Sprays
Play 18 Games: earn the Nano D.Va Player Icon
Play 27 Games: earn the Nano D.Va Epic Skin
The matches must be played in Quick Play, Competitive Play or the Arcade to be eligible for these challenges. Players should still look to be victorious, however, as wins count as two games.
Bastet Ana and Combat Medic Baptiste are the other two reward skins up for grabs in weekly challenges during this event.
Additionally, six previously released rare skins are set to receive re-colors as part of the Anniversary Remix: Vol. 1 event, including Demon Genji (Oni Genji), Evermore Reaper (Nevermore Reaper), Mage Mercy (Witch Mercy), Steelhardt Reinhardt (Blackheart/Stonehardt Reinhardt), White Cat D.Va (Black Cat D.Va) and Zealot Zenyatta (Cultist Zenyatta).
The Overwatch Anniversary Remix: Volume 1 event starts on Tuesday, April 5, and is scheduled to run for three weeks.