TimTheTatman Reveals 'Broken' Warzone Sniper That One-Shots With Ease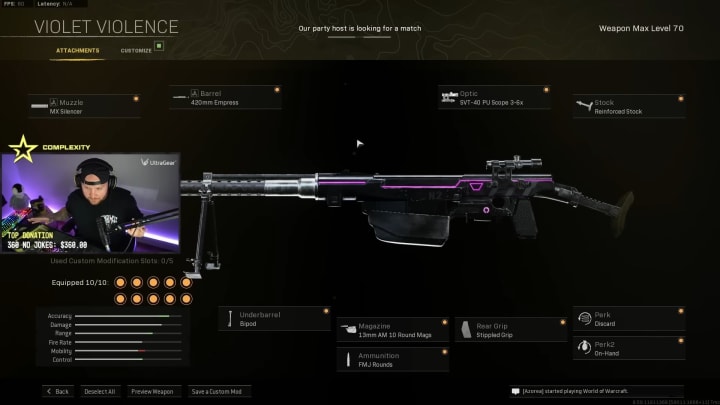 "This sniper, I think something is broken on it and something is not right because it is hitting so hard from such a distance." / Image courtesy of TimTheTatman, Activision
Content creator star TimTheTatman recently posted a video on his YouTube channel revealing what he thinks is the best sniper rifle loadout to use at the moment in Call of Duty: Warzone Season 4.
One of the most underrated balancing storylines to watch in Mercenaries of Fortune so far has been that of the sniper rifles. Particularly since getting buffed at the start of the season, the Vanguard Gorenko Anti-Tank Rifle has slowly but surely crept its way into the weapon meta.
Breaking it all down in a recent YouTube video eloquently titled, "NEW BROKEN SNIPER IN WARZONE (NEW META)," the legend TimTheTatman showcased how the Gorenko Anti-Tank Rifle is perhaps the sniper that all players should be giving a try in Call of Duty: Warzone Season 4.
TimTheTatman's Gorenko Anti-Tank Rifle Warzone Loadout
"Obviously, the Kar98 and the Swiss got nerfed," TimTheTatman said in the video, "so everyone was using the AX-50, people were using the HDR, maybe even some people using the ZRG. Well, there's this one sniper that I just never tried until someone tweeted me about it and I decided to give it a go."
Later in the video, after Tim dropped 16 kills with the gun alongside FaZe Swagg and FaZe Booya combining for a whopping 62 kills, he explained how it feels as though the Gorenko Anti-Tank Rifle has a glitch making it similar to how stupidly overpowered the AX-50 was in Season 3 Reloaded.
"This sniper, I think something is broken on it and something is not right because it is hitting so hard from such a distance," TimTheTatman said. "You get 10 rounds and it goes 'pop, pop, pop' and you don't have to reload it or cock it. I'm telling you, this sniper is broken."
For those looking to use TimTheTatman's Gorenko Anti-Tank Rifle build, here is his class setup:
Muzzle: MX Silencer
Barrel: 420mm Empress
Underbarrel: Bipod
Magazine: 13mm AM 10 Round Mags
Ammunition: FMJ Rounds
Optic: SVT-40 PU Scope 3-6x
Rear Grip: Stippled Grip
Stock: Reinforced Stock
Perk 1: Discard
Perk 2: On-Hand
---
For more on Call of Duty, be sure to check out our top five lists:
Additionally, feel free to check out our timeline on the history of the Call of Duty franchise!