Warzone Caldera: All Updated POIs in Season 3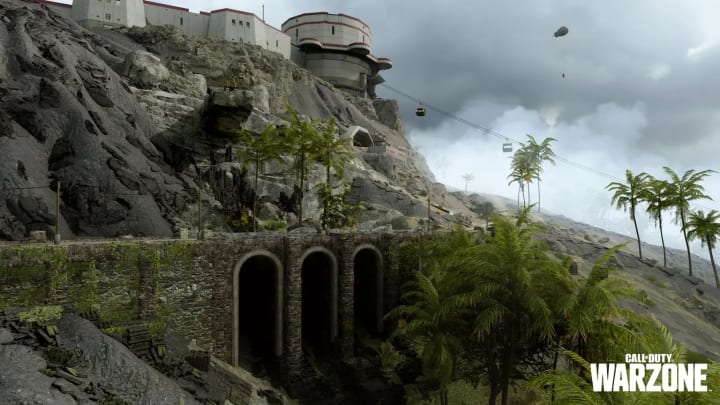 "A storm is coming to the sunny paradise of Caldera." / Image courtesy of Activision
The Season Three roadmap has just been officially revealed for Call of Duty: Warzone, showcasing a breadth of map changes coming to Caldera, some in preparation for the Operation Monarch event that will feature the likes of Godzilla and Kong.
With a storm coming soon to the sunny paradise of Caldera, Here's a breakdown of all of the map changes and updates set to release in Call of Duty: Warzone Season 3: Classified Arms.
New Point of Interest: Dig Site
Dig Site / Image courtesy of Activision
First off, coming to Caldera in Season 3 is a brand-new point of interest (POI) located between Ruins and Mines. Named Dig Site, players are invited to get their hands dirty and rummage through abandoned excavation equipment, tents and massive skeletons to uncover ancient secrets, loadout items, Supply Boxes and clues of enemies. Unearthing giant skulls, rib cages and remains of Serpentine creatures that some say came from the Hollow Earth, the mining company ultimately abandoned this operation.
Peak Updates
Peak / Image courtesy of Activision
As teased by Raven Software weeks ago, Peak will indeed receiving some changes in the new season with the goal of drawing in "more Operators looking for Supply Boxes, Contracts and a solid starting point for their rotation strategies." All buildings atop the Peak are fully built up, with a fresh coat of paint revealing the symbol of the mysterious global organization known as Monarch — the cryptozoological defense force investigating Titan activity on the island. Players are also invited to use the new exterior and interior ascenders to quickly travel between old and new floors of this area, or drop down to the core to see some of the upgrades made to the otherwise natural structure.
Runway Updates
Runway / Image courtesy of Activision
As darker days appear on the horizon, Caldera's Runway has been rebuilt with a set of barracks, hangars and other structural additions, replacing jungle overgrowth and abandoned lodgings in this area. The Runway now also includes a few decommissioned planes that could act as cover, as well as a few guard towers and water towers for getting a better survey of the area. Activision also mentioned that Operators who usually drop in at the Beachhead or the nearby operations building will find it easier to travel out to the Runway.
Lagoon Updates
Lagoon / Image courtesy of Activision
In Season 3, the shifting tides are said to have revealed another path from the main island to the structure. Expanding off the knee-high water route, this sandbar has multiple moored ships to explore or use as cover. In addition to a steep, rock-faced cliff behind a few houses, there are several sloping paths back up to the main island and to what already existed in this area.
Vehicles can also travel over this area — just be sure your driver knows how to handle off-road terrain and is not prone to any "sinking feelings" during tactical operations.
Aside from these additions, Activision emphasized that players may find many clues towards what will come with Operation Monarch, which will introduce a new game mode for Quads based on several classic experiences with a titan-sized twist. The clues are said to be in the form of ancient artifacts, Monarch Research equipment, tents and a massive, glowing axe jutting out of the ground right near the Resort.
For more on Call of Duty, be sure to check out our top five lists:
Additionally, feel free to check out our timeline on the history of the Call of Duty franchise!