Call of Duty
Warzone Fortune's Keep vs. Rebirth Island: Resurgence Maps Compared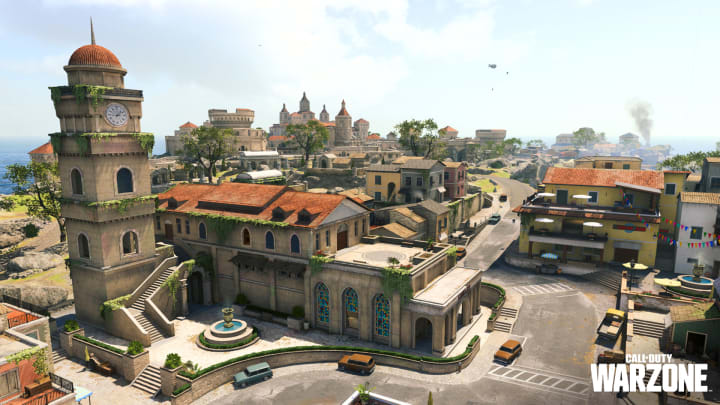 "It is roughly the same size as Rebirth Island and features four distinct points of interest." / Image courtesy of Activision
On June 22, a new first will be documented in Warzone history as the popular battle royale will see a third map join its active rotation in Season 4.
Now that Activision has dove in-depth on Fortune's Keep, Warzone's brand-new Resurgence battle royale map developed by High Moon Studios, now is perhaps as good of a time as ever to compare it with the game's first compact island map. Here's a comparison of the two Resurgence maps in Call of Duty: Warzone Season 4, Fortune's Keep and Rebirth Island.
Warzone Fortune's Keep vs. Rebirth Island: Size
As confirmed in the Season 4 reveal developer blog post, Fortune's Keep is indeed "roughly the same size as Rebirth Island."
This lines up somewhat with what those in the community have speculated in recent days such as Redditor Dro2910, who did a basic edit of the maps to give players a rough estimate of what they'll be seeing next season.
Ultimately, considering Fortune's Keep is a Resurgence map rather than a full-blown, flagship battlefield like Caldera or Verdansk, expect its pacing to function similarly to Rebirth Island.
Warzone Fortune's Keep vs. Rebirth Island: POIs
In the points-of-interest department, the young gun does slightly beat out its predecessor as Fortune's Keep has 12 POIs as opposed to Rebirth Island's 11 that were updated with Beenox's Reinforced update.
Going back to the topic of map size, it is interesting to note that the minimap of Fortune's Keep does appear to have the POIs more spread out as opposed to the setup of Rebirth Island, which should make for some longer sightlines and gunfights for players to take.
Will Fortune's Keep Replace Rebirth Island?
Technically speaking, yes, but only temporarily.
As Activision confirmed in its latest blog post, Rebirth Island will rotate out at the start of the new season but will make its return in weekly playlist updates rotating the trio of playable maps. Additionally, it will even share time with Fortune's Keep in-game during limited-time events like The Terminal List – Warzone Rebirth Island Tournament.
---
For more on Call of Duty, be sure to check out our top five lists:
Additionally, feel free to check out our timeline on the history of the Call of Duty franchise!