FIFA
FIFA 22: April 2022 Rate the Game (RTG)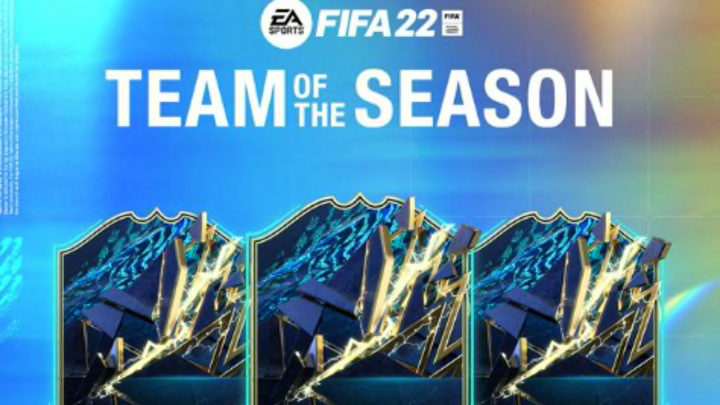 FIFA 22 / Photo courtesy of EA Sports
FIFA Ultimate Team is one of the most popular game modes today. Fans log on each and every day to open packs, compete against one another, and achieve whatever level of glory they set out for themselves. In Rate the Game, we'll be taking a look each month at the state of FUT grading out multiple aspects of the game.
April was a slower-paced month for FIFA 22 fans, with only two full-length promotions being held this past month: FUT Captains and the FUT Showdown Series. The FUT Captains was okay to say the least, including some great cards and reviving FUT Heroes in FIFA 22 with the Hero Captains cards.
FUT Showdown featured daily Showdown SBCs, which brought us new players to try out apart from the main meta players. The Showdown Series didn't feature a promo team, but the daily content was good from EA, along with the variety of players chosen from each team.
We also had the live factor of Fantasy FUT to watch throughout April, with the live items upgrading throughout the month. This kept both real-world football and FUT entertaining to follow, with one impacting a segment of the latter.
Lastly, the end of April also brought the arrival of Team of the Season, with the Community and Eredivisie TOTS all dropping during the last weekend of April.
Looking back, there were plenty of things to like and dislike about FIFA 22 Ultimate Team in April. With everything that FUT had to offer, let's break down and rate each aspect of the game mode from April, and discuss the good and the bad that EA brought to Ultimate Team this month. 
Here's FIFA 22's Rate the Game (RTG) for April 2022 / Photo Courtesy of Michael Grullon/FUTBIN
Promotions - Overall Rating: 83
Promotions Released in April
FUT Captains - Rating: 81
FUT Showdown Series - Rating: 85
Team 2 Fantasy FUT (44 players total, 16 in Team 2) - Rating: 82
TOTS (Community, Eredivisie) - Rating: 85
Since Fantasy FUT was mostly a March promotion and ended in early April, I won't discuss it too much for April. However, the good thing about the promo was that it gave players an incentive to watch real-world football, in hopes that their Fantasy FUT players get upgraded. Anytime EA Sports releases content that is tied to real-world football, it is a plus, so that promo contributed to a solid month of FUT content.
The FUT Showdown Series followed the end of Fantasy FUT, and brought a week of very good content. The daily SBCs were looked forward to each day, with unique players being given items to represent their teams. Showdown SBCs are big gambles for players, but if your card's team ended up winning their match, their upgrade was pretty big. Those who completed Wout Weghorst know what I mean.
FUT Captains included some solid cards, especially in SBCs, highlighted by a 93 rated Marco Reus and 94 rated Marcelo. While the cards were good, they were a bit repetitive, with many of the cards being consistent special card recipients throughout this year and previous FIFAs. Additionally, many of the cards lost value quickly, dropping on the transfer market to very affordable prices. This may end up being an underrated and forgotten promo this year, but at least it gave us a special Marcelo card and a great Chiellini SBC.
The one highlight of FUT Captains was the revival of the FUT Heroes players, who have been pointless over the last five months of FUT. The were great up until Christmas, but post TOTY, not many players cared for the cards anymore. FUT Hero Captains brought back the best of these cards and gave them massive upgrades. Players like Abedi Pele, Joe Cole, and Ivan Cordoba are once again top-level cards.
April concluded with a bang, with the TOTS promo officially starting with the Community and Eredivisie. Highlights from TOTS at the end of April include a 96 rated Luis Suarez and a 95-rated Ryan Gravenberch, who both are endgame caliber cards. If this is the benchmark for how EA will run TOTS upgrades, fans should be excited.
Objectives: 82
Top 5 Objectives in April
5. Konrad De La Fuente (FUT Showdown Series)
4. Lars Stindl (FUT Captains)
3. Thiago Mendes (FUT Showdown Series)
2. Yarmolenko (FUT Showdown Series)
1. Daniel Parejo (Community TOTS)
Objectives were good in April, with solid releases granting easy pack rewards to save for TOTS or solid players to add to squads or as SBC fodder. The Live FUT Friendlies were easy to work with this month as well.
Some of the best cards from Objectives in April include De la Fuente's Silver Stars, a very easy-to-complete Lars Stindl, and two FUT Showdown Series cards in Mendes and Yarmolenko.
Icon Swaps 3 also arrived in April, and the rewards available are some of the best we've seen. The objectives remained relatively similar, and players could earn multiple Tokens at the same time.
While objectives weren't special this month, there was hardly anything to complain about.
Squad Building Challenges: 86
Top 5 SBCs in April
5. Fernandinho
4. Pepe
3. Sergio Canales
2. Giorgio Chiellini
1. Wout Weghorst
EA Sports released numerous SBCs in April, with the FUT Showdown Series dedicated to daily SBCs for a week straight. Most SBCs were great value, and many of the players will be good enough to compete with TOTS players well into the beginning of the summer.
By far one of the best cards released all year, the Wout Weghorst Showdown SBC is a 6'6" tank of a striker is still in many squads. The +2 upgrade he received after Burnley's win against Everton was unexpectedly overpowered, and this was the case for many of the Showdown cards.
Additionally, the FUT Captains promo also dropped some solid player SBCs as well, especially defensive-minded players. Pepe and Giorgio Chiellini are two of the top options in their leagues and are great CBs even during TOTS. With the new players to come from the Serie A and Liga Portugal, these players will be easy to fit into squads, and their values made it hard not to complete them.
Transfer Market: 74
The transfer market was consistently down this month, with fodder at low points throughout the month for the most part. During Marquee Matchups and ahead of SBC leaks, there were spikes in certain players, but overall most cards stayed at consistent values.
In-forms, on the other hands, stayed at very high values for the most part. With most of the SBCs in April requiring one or two in-forms to complete, it was extremely difficult to find in-forms for less than 15,000 coins, no matter their rating. While this may sound nice for those who were able to pack multiple TOTW players throughout the month, this made SBCs substantially more expensive to complete.
The same goes for common and rare players between 75 and 84 rated. There were a plethora of spikes in certain league and nation players that allowed for plenty of profit when opening packs.
Muniain's FUT Captains card is nearly less than his in-form cards, which are over 3 full ratings lower! / Photo Courtesy of FUTBIN
Promo player prices were probably the toughest aspect of the transfer market this month. April proved how EA Sports have messed up their upgrades and player choices for promos in FIFA. Players like Iker Muniain, Jonas Hector, and Mark Noble were nearly discarded just one day after their release. Muniain's FUT Captains card is nearly less than his in-form cards. A great example of how EA Sports needs to review its rating structure and Team of the Week as a whole.
Most of the FUT Captain cards and Fantasy FUT cards settled under 300,000 coins in April, so if you packed them, odds are you wouldn't make too many coins back.
Gameplay: 64
While there were no major gameplay issues or patches in April, gameplay modes were a different story. Division Rivals is in an incredibly poor state right now, with players backing out at 0-0 in both Rivals and FUT Champions, as well as poor rewards for playing the game. FUT Friendlies was the primary highlight for gameplay in April, which is not a good thing at all for players who enjoy a little bit of competitiveness.
This has been an ongoing story throughout FIFA 22, with more and more players complaining over the rewards structure in Division Rivals, FUT Champions, and even FUT Draft. Content creators have said similar things about the gameplay and rewards in FIFA 22 being the worst in years, and how that has lessened their interest and playing to the most competitive level.
Errors: 65
EA Sports did little to help gameplay issues throughout April in FIFA 22 with multiple errors committed this month. Glitches were discovered on a nearly weekly basis, whether it be a no-loss glitch in Weekend League to issues with objectives not counting upon completion.
Multiple times this month, EA was even late with releasing daily content, especially toward the end of April. On April 27, EA's official FIFA Direct Twitter account alerted players that there was an issue with publishing content on time, and that content included an objective and SBCs. However, the promo packs were released with ease.
EA showed incompetence with fixing these errors throughout the month, and lack of responsibility to fix them quickly. These issues have existed for too long in FIFA 22, and April was the poster child of them.
Overall Score for April: 76
Overall, April was a very interesting month for FIFA 22. While the content released was decent, it's hard to not remember how poor the gameplay and glitches were, and how much they impacted having fun in the game. I returned to FIFA 22 fully at the end of March, and while enjoying the content released, I found my RTG relatively stagnant. Whenever I packed a walkout or promo card, it was disappointing to see that sometimes they were barely worth more than an in-form.
EA had the potential to end a poor April with a bang, and while the TOTS cards started to look great, you have to worry that with all of the top-level cards in the game already, many of the cards will be irrelevant by the end of May. We'll need plenty of 95-rated cards and higher in TOTS to make these cards relevant, especially because of promotions like Fantasy FUT upgrading players to TOTS caliber cards.
Here's to hoping that EA Sports will have a great May and TOTS will revive enjoyment, because right now, that joy is at a low for many fans, including this one who has enjoyed FUT since launch.