Warzone Season 4 Reloaded LMG Tier List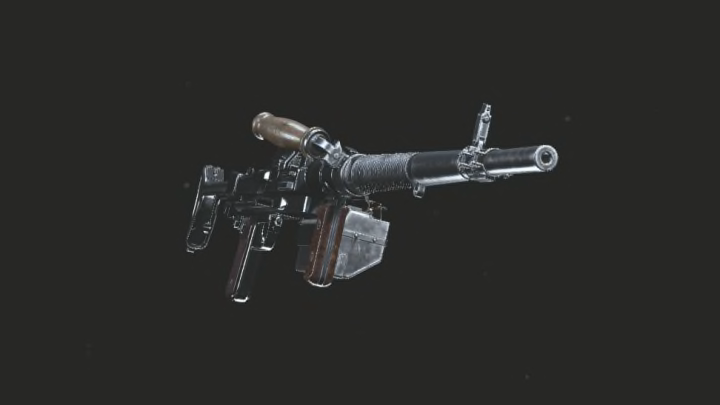 DBLTAP's LMG tier list for Call of Duty: Warzone, updated for Season 4 Reloaded. / Image courtesy of Activision/Screenshot: Ralston Dacanay
Our Call of Duty: Warzone Season 4 Reloaded LMG tier list is here to break down which of the guns are the best to use in Caldera, Fortune's Keep, and Rebirth Island with the launch of Raven Software's latest major update.
With the Season 4 Reloaded patch, although we didn't get an all-new LMG, a handful of major changes were made to options in the weapon class. Now that the Whitley and UGM-8 have received some buffs, here is a breakdown of how the LMGs stack up in Call of Duty: Warzone Season 4 Reloaded.
Warzone Season 4 Reloaded LMG Rankings
S Tier
Bruen Mk9 / Image courtesy of Activision/Screenshot: Ralston Dacanay
In the S Tier are two LMGs that should continue to be elite at long range in Season 4 Reloaded. Compared to the current top assault rifle options on the Resurgence maps, however, the UGM-8 and Bruen Mk9 should be able to compete, but won't necessarily be the absolute best.
A Tier
MG42 / Image courtesy of Ralston Dacanay, Activision
In A Tier are seven LMGs that statically are comparable to the one above, but just aren't as well-rounded at the moment. Feel free to try any of these LMGs out to see if you can find an underrated sleeper.
B Tier
Bren / Image courtesy of Ralston Dacanay, Activision
These five LMGs in B Tier remain viable, but could use a slight buff in order for more players to seriously consider mastering them. Included here are is one of the most popular LMGs in the game somewhat surprisingly, the PKM.
C Tier
M91 / Image courtesy of Ralston Dacanay, Activision
Lastly, these C Tier LMGs have been behind in the pack for far too long and are not close to having a place in the meta. Being that these are LMGs, they're all likely not worth a custom loadout drop, and therefore will almost never see the light of day in most games.
---
For more on Call of Duty, be sure to check out our top five lists:
Additionally, feel free to check out our timeline on the history of the Call of Duty franchise!