Valorant
Sean Gares Steps Down as 100 Thieves Valorant Head Coach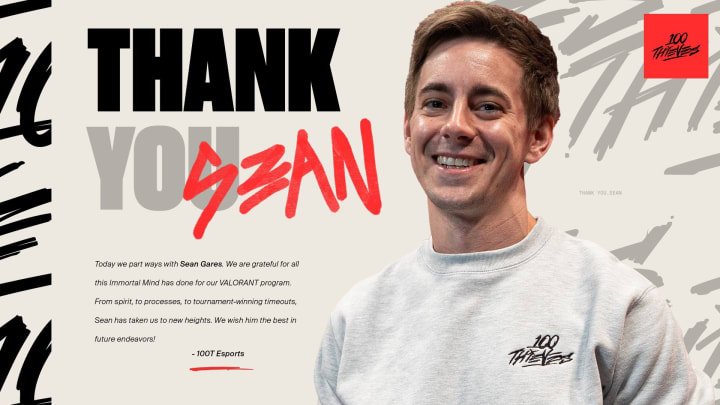 Michael "Mikes" Hockom will be elevated to the role of head coach for 100 Thieves. / 100 Thieves
Sean Gares is stepping down as the head coach of 100 Thieves Valorant to pursue content creation, both sides announced Wednesday.
100T's assistant coach during the 2022 VCT season, Michael "Mikes" Hockom, has been named the new head coach of the squad moving forward.
"It's obviously very sad to leave the guys," Gares said in his announcement video. "I built up really strong relationships with everyone on the team and I think we had a lot of success in such a short amount of time. Everyone was super tight-knit."
Citing the "blood, sweat, and tears" that went into him and the team's "nonstop grind" since the contracts were signed at the beginning of VCT 2022 Stage 2, Gares admitted that he did miss a lot of the things that he had to give up while competing again.
"I definitely," Gares said, "obviously, missed streaming and creating content for my fans throughout this time and that was one of the hardest things. That, as well as I really missed casting and just being involved in the scene more [with] a lot of the things that I used to do. You, unfortunately, didn't have the time for that when you were in an esports team as a coach, and I didn't think I would miss it as much as I did. I thought my competitive side would take over — and it did, which was why I didn't do any of those things — but I truly do miss it a lot."
Free-falling from its resounding Stage 3 Masters Berlin performance, 100 Thieves Valorant notoriously shuffled the deck with personnel moves to an almost uncomfortable degree before ultimately announcing its structural shakeup about half a year later. At the helm of the newly assembled 100T Valorant brain trust was general manager Daniel "ddk" Kapadia and head coach Sean Gares.
Subsequently, Spencer "Hiko" Martin and Ethan Arnold departed, and Peter "Asuna" Mazuryk went on to form the new core with Derrek Ha, William "Will" Cheng, Brenden "stellar" McGrath and the previously loaned Sean "bang" Bezerra. At the helm
With Gares, 100 Thieves saw a meteoric rise in performance, taking home the 2022 VCT NA LCQ in dramatic fashion before bombing out of the Valorant Champions 2022 group stage to FNATIC.
"The primary thing I want to say to the fans is thank you so much for embracing us," Gares said. "I was so scared when I first joined the team about failing the fans because previously, we had all these big names on the roster. The Hikos, the Ethans, the nitr0s, steel. There was huge names that were on this team and I think when our roster we built got released there was a lot of doubt around it, but the change in sentiment was so quick and I couldn't believe how quickly the fans embraced us and cheered us on."
This announcement perhaps marks just one of the many headlines in what's been a wild offseason for teams competing in the Valorant Champions Tour (VCT).
100 Thieves was one of five North American organizations to secure a partnership with Riot Games for a spot in its VCT Americas League. Starting in 2023, VCT action will be headlined by its three, 10-team International Leagues that provide those lucky enough to be in it the chance to qualify for global events.
On Sept. 29, 100T officially announced it has signed Matthew "Cryo" Panganiban from XSET to replace William "Will" Cheng. Being that all 30 of the partnered teams competing in the 2023 VCT International Leagues must field at least six players, it remains to be seen who 100T will sign to fill its substitute role.
The 2023 100 Thieves Valorant roster is:
Peter "Asuna" Mazuryk
Derrek Ha
Brenden "stellar" McGrath (IGL)
Matthew "Cryocells" Panganiban
Sean "bang" Bezerra
Michael "Mikes" Hockom (Head Coach)
Daniel "ddk" Kapadia (General Manager)
---
For more 2022 VCT coverage, feel free to check out: